Gone are the days when veganism was reserved for Birkenstock-clad hippies and animal-rights activists. Lauded for its health benefits, veganism supports the ethical treatment of animals and a more sustainable lifestyle, and the foodie side of the vegan lifestyle has finally hit the masses in the form of the plant-based dining movement. We've rounded up our favourite places to dine out for a vegan meal, from all-vegan dining establishment or ones that offer a stellar selection of vegan-friendly dishes. Check out this comprehensive guide to the best vegan and plant-based restaurants in Hong Kong, offering up healthy and conscious dining every night of the week.
Jump to: 100% Vegan | Vegetarian & Vegan-Friendly | Vegan-Friendly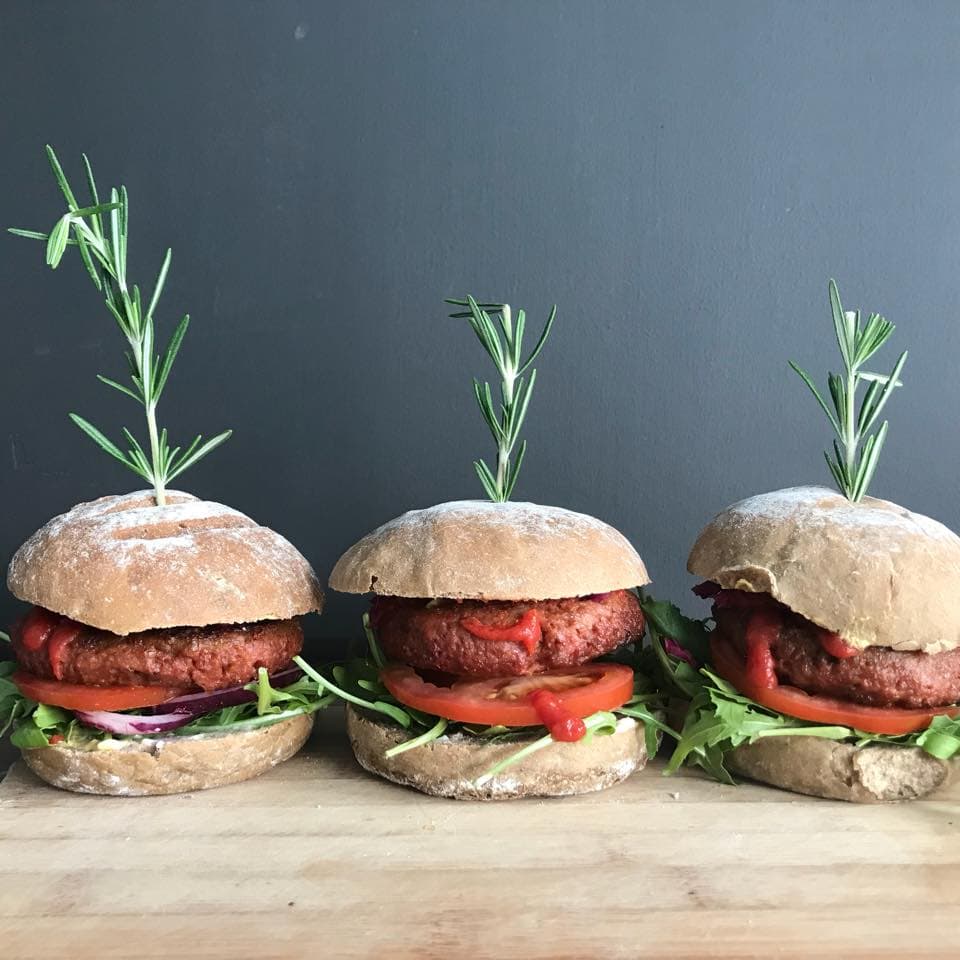 100% Vegan
Confusion Plant-Based Kitchen
This plant-based, vegan casual restaurant is conscious of every aspect of the dining experience, from their sustainability ethos to the nutrition of their dishes. Their menu of healthy breakfast burritos, burgers, sandwiches and wraps provides the perfect lunch stop—plus, you can treat yourself to one of their delicious home-baked goods in the afternoon.
G/F, 103, Jervois Street, Sheung Wan, Hong Kong | confusion.hk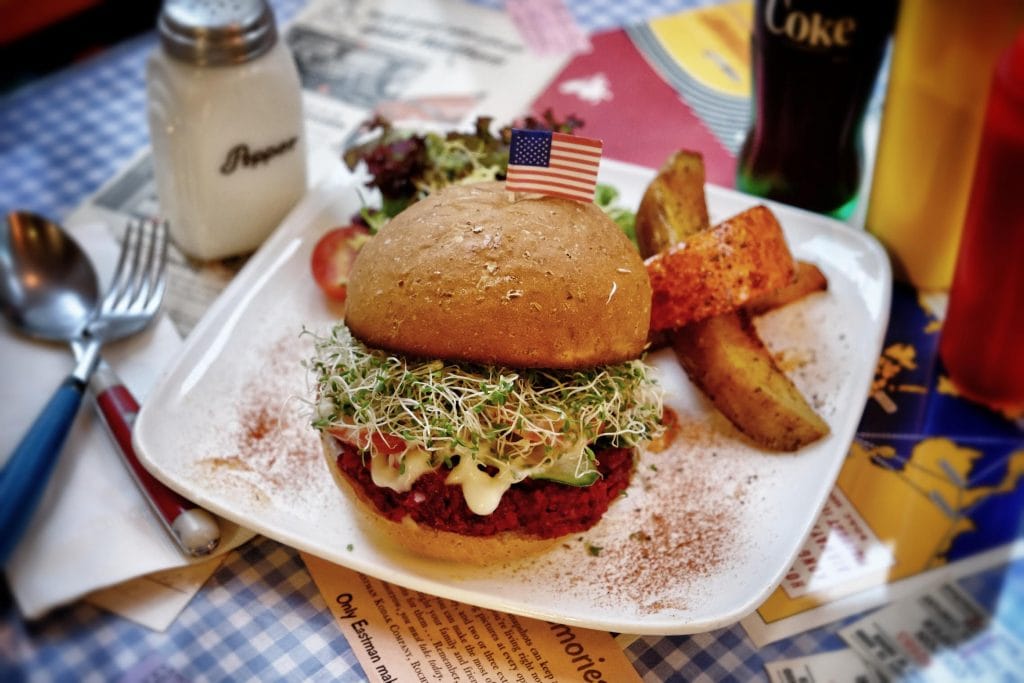 Veggie SF
Don't let the décor fool you, this restaurant may look vintage but its food is contemporary and fresh. Veggie SF serves up an entirely plant-based mix of American-style comfort food and Asian favourites, and went from vegetarian to pure vegan in 2016. The well-balanced menu features substantial options like the 'I Am Fabulous burger', a hearty patty of beetroot, cashew nut, lentil and mushroom, alongside innovative dishes like Sushi 101: konjac rolled with fried veggies, rainbow peppers and wrapped in seaweed.
Veggie SF, 10F, 11 Stanley Street, Central, Hong Kong | (+852) 3902 3902 | veggiesf.com
Ohms Cafe
This relaxed Sheung Wan cafe serves up a small but specialised vegan menu of Asian-inspired dishes. Pop in for a light lunch of Tom Yum soybean fettuccine, or enjoy a variety of happy bagels with a selection of toppings, including truffle vegan cheese with avocado, or sea salt almond butter, or head in for an indulgent dessert of fluffy pancakes with coconut cream or Happy Cow vegan ice cream.
Shop A, 192 Hollywood Road | Facebook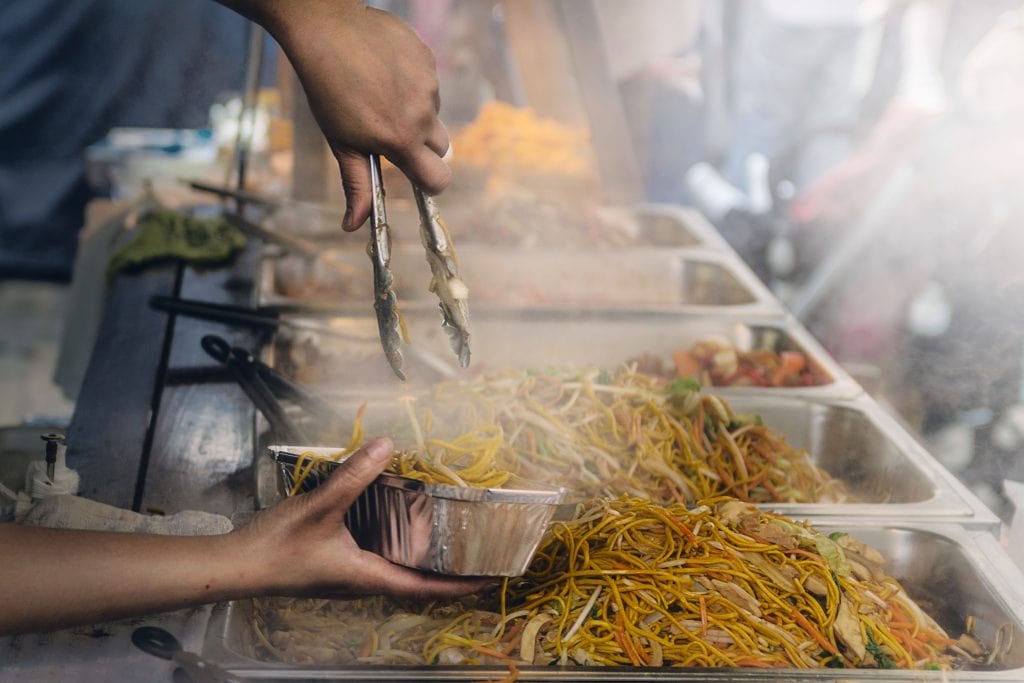 CS Vegan
If you're looking for value you can't beat this homey Hong Kong–style no-frills vegan buffet. Established as a social initiative, CS Vegan offers a wide variety of curries, noodles, soups and vegetable dishes to which guests can help themselves. All the profit goes directly towards providing vegan lunch boxes to the elderly and those in need. While it may not be haute cuisine, the service is friendly and the selection is incredibly varied.
CS Vegan, 1F Potek House, 9 Tsing Fung Street, Tin Hau | (+852) 6680 9391 | Facebook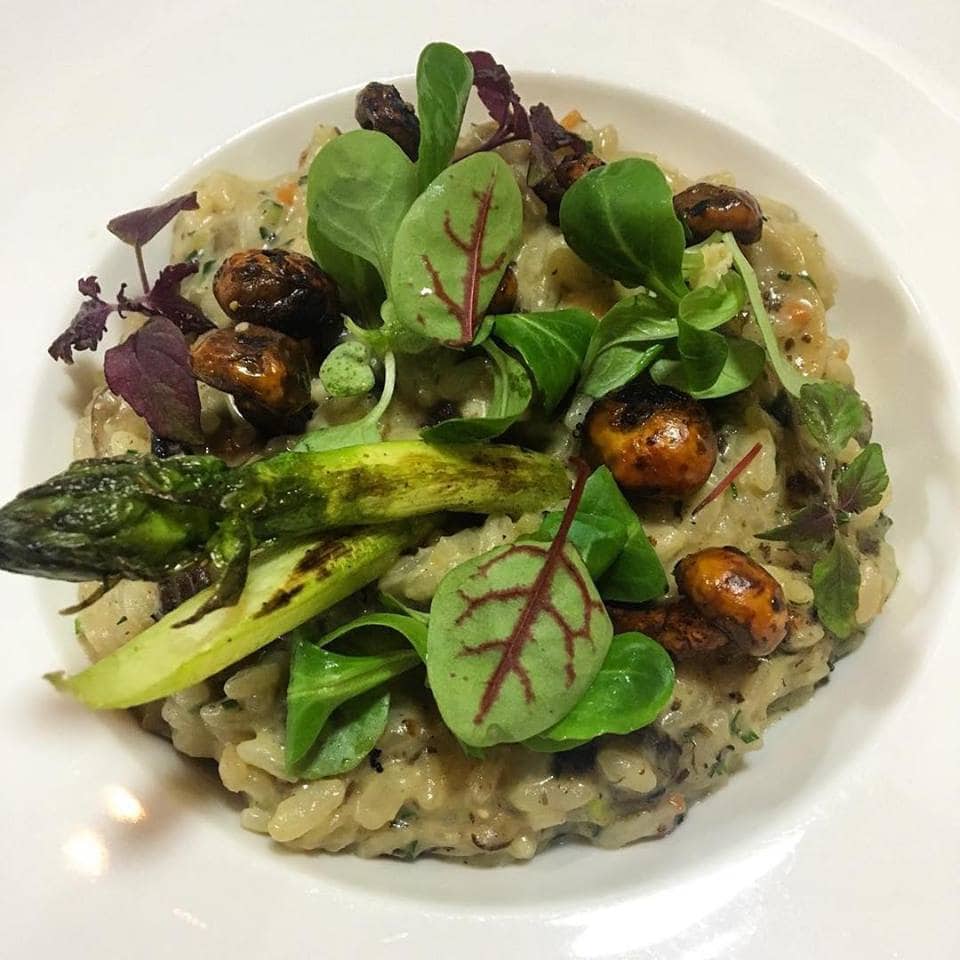 Mirror & Vegan Concept
"The plate is your mirror; the food is your reflection" is the motto of this restaurant. Focussed on Italian dining, Mirror & Vegan Concept produces fun, plant-based dishes true to their Italian origins—sans cheese, of course. Soups, salads, pasta and risotto all feature heavily, and their signature dishes spaghetti Aglio Olio e pepperoncino, and deep-fried truffle risotto with tomato sauce are simple but delicious.
9/F, 118 Queen's Road Central, Central Hong Kong | Facebook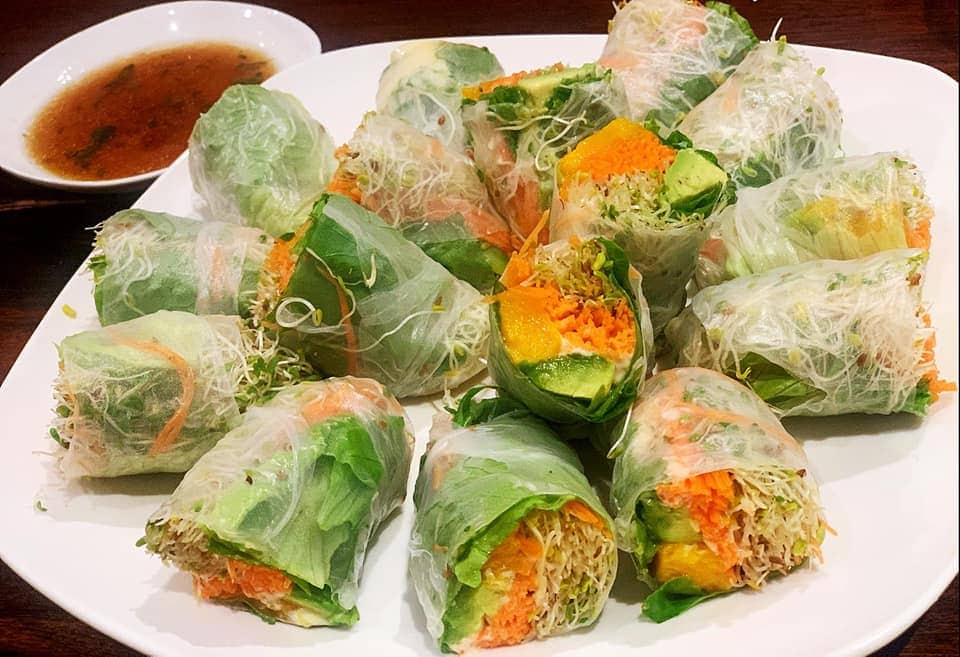 Veggie Mami
A Kowloon favourite, this previously vegetarian restaurant went totally vegan in October 2015. Located in Prince Edward, Veggie Mami dishes out clean, fresh and bright vegan dishes with no mock "meat". We love their unusual ingredients, like baobab fruit, wolfberry, and sweet olive flower. The Alfalfa Hand Roll is bursting with sprouts and sweet mango, and the Vegan Sushi, with avocado, sweet corn and bean curd has an exciting balance of flavours and textures.
Veggie Mami, 2A Poplar Street, Prince Edward, Kowloon, Hong Kong | (+852) 2787 0389 | Facebook |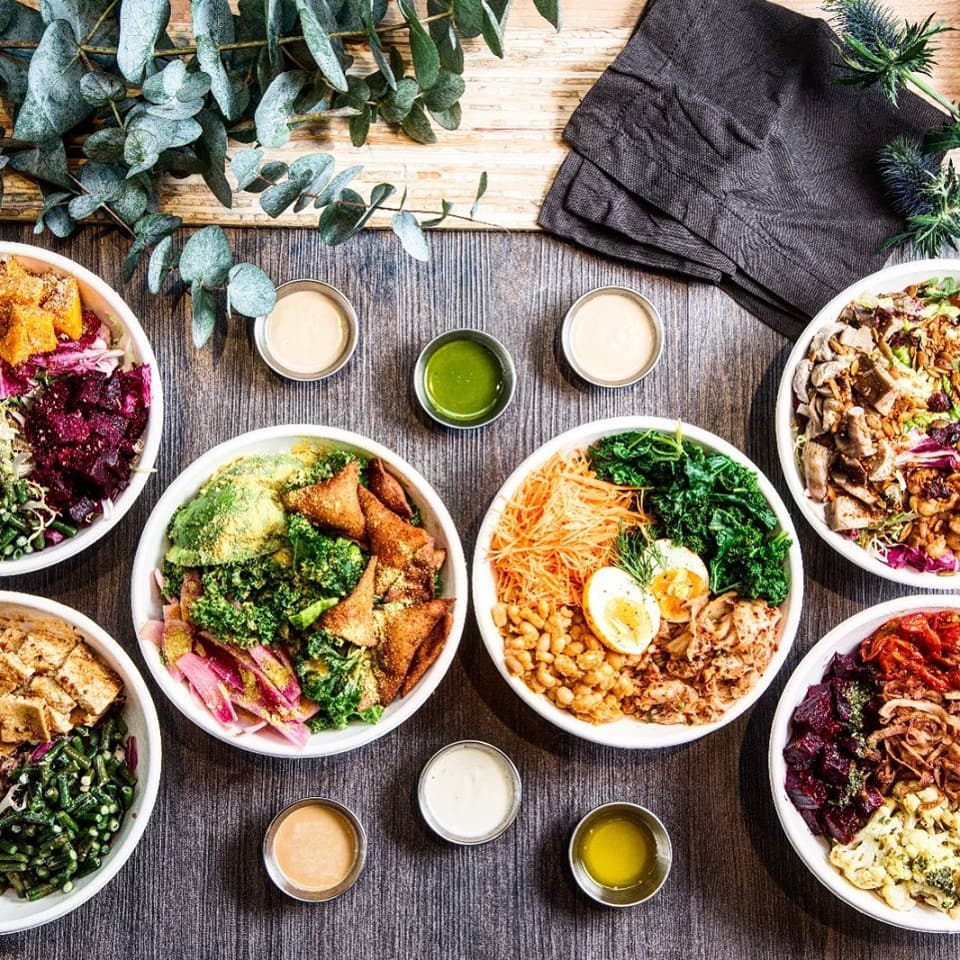 Vegetarian & Vegan-Friendly
Treehouse
One of the newest additions to the plant-based scene, Treehouse comes from Christian Mongendre, founder of the much-loved plant-based Home: Eat to Live and co-founder of MANA! Fast Slow Food. Conveniently located in the new H Code complex, Treehouse serves up fresh wraps and salads from a wide selection of vegetarian and vegan ingredients that are sourced from local farmers and focus on sustainability.
Shop 1, Ground Floor, H Code, 45 Pottinger Street, Central | (+852) 3791 2277 | Facebook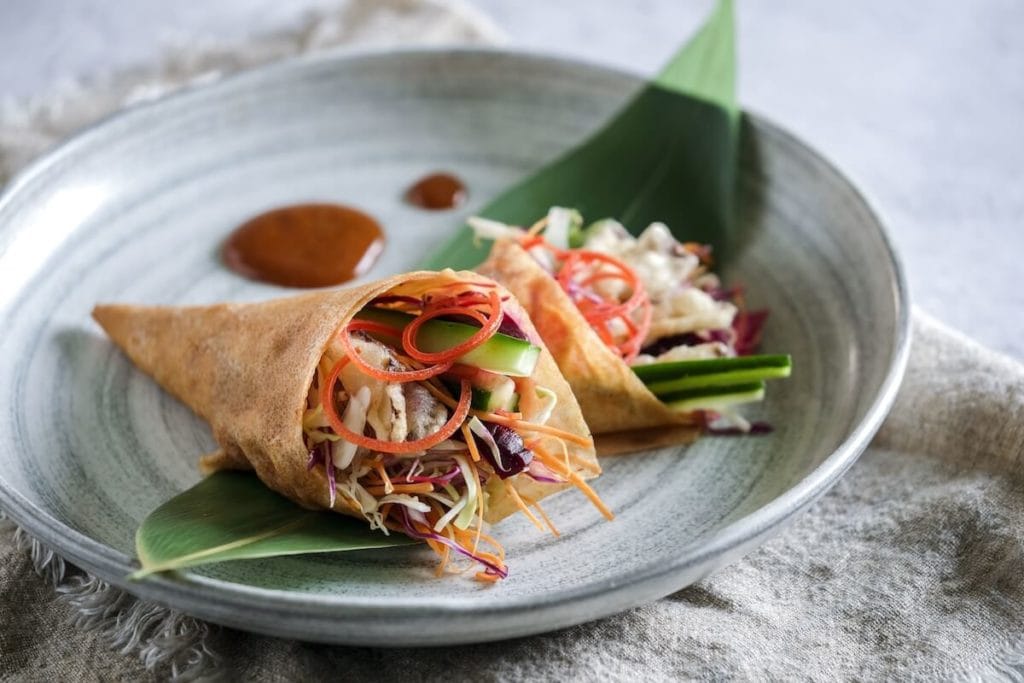 Miss Lee
A quriky retro-chic diner, Miss Lee serves up all-vegetarian fare with clearly marked menus indicating vegan, Buddhist-friendly, gluten- and lactose-free dishes for health conscious diners with dietary requirements. A hearty meal of dishes like sweet and sour beancurd, mapo eggplant and truffle yam noodles will leave you feeling deeply satisfied with this tist on traditional Chinese dining.
GF, The Wellington, 198 Wellington Street, Central | (+852) 2881 1811 | misslee.hk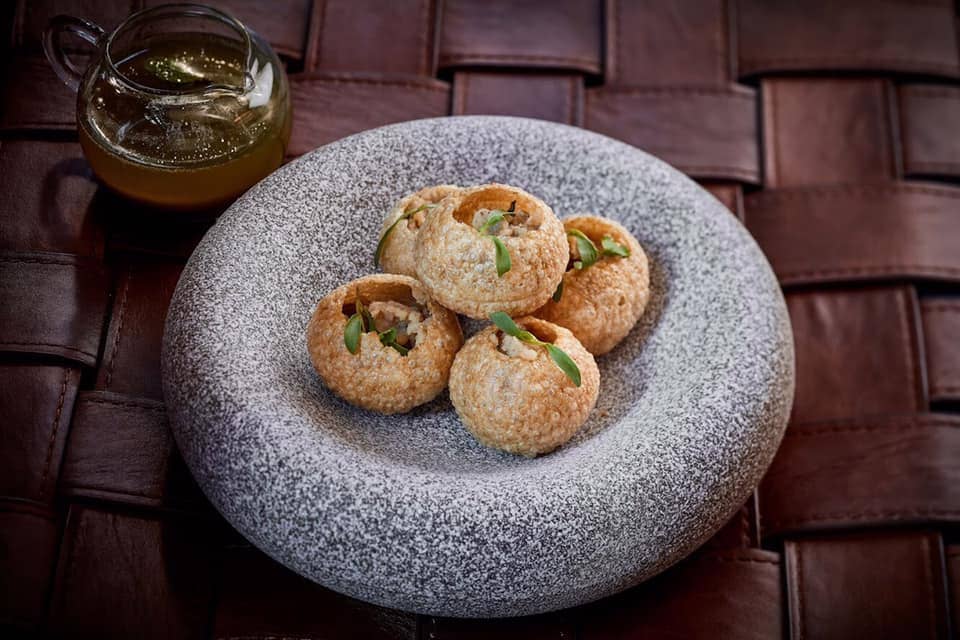 Veda
Hong Kong's first completely vegetarian hotel restaurant serves up delicious and nutritions contemporary South Asian and South-East Asian fare, with plenty of vegan-friendly options: so many, in fact, it's put together an all-vegan tasting menu to celebrate World Vegan Month 2019 featuring the signature Roasted Aloo Gobi and Pani Puri. If you fancy a warming bowl of vegan ramen, switch out the egg in Veda's 'Misoy' Ramen for kimchi.
Ovolo Central, 2 Arbuthnot Road, Central | (+852) 3755 3067 | ovolohotels.com.hk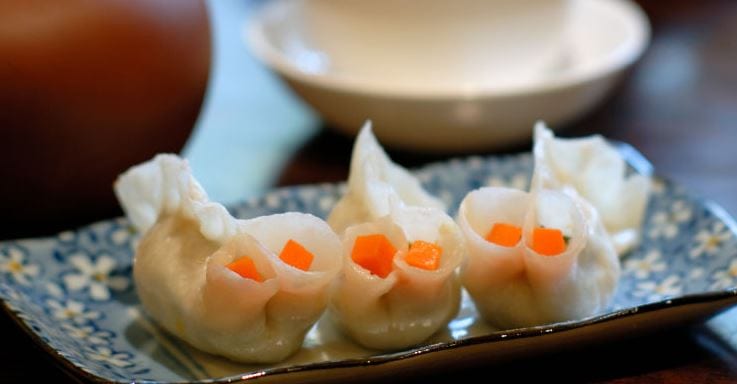 Lock Cha Tea House
With two locations, one in Hong Kong Park and one in the new Tai Kwun development in Central, Lock Cha's completely vegetarian and mostly vegan dim sum is deliciously accessible. Serving delicate dim sum from 10am most mornings, this Hong Kong institution is perfect morning, noon or night for a traditional vegan Hong Kong meal.
GF, The K.S. Lo Gallery, Hong Kong Park, Admiralty, Hong Kong
G06-07, Block 01, Tai Kwun, 10 Hollywood Road, Central | lockcha.com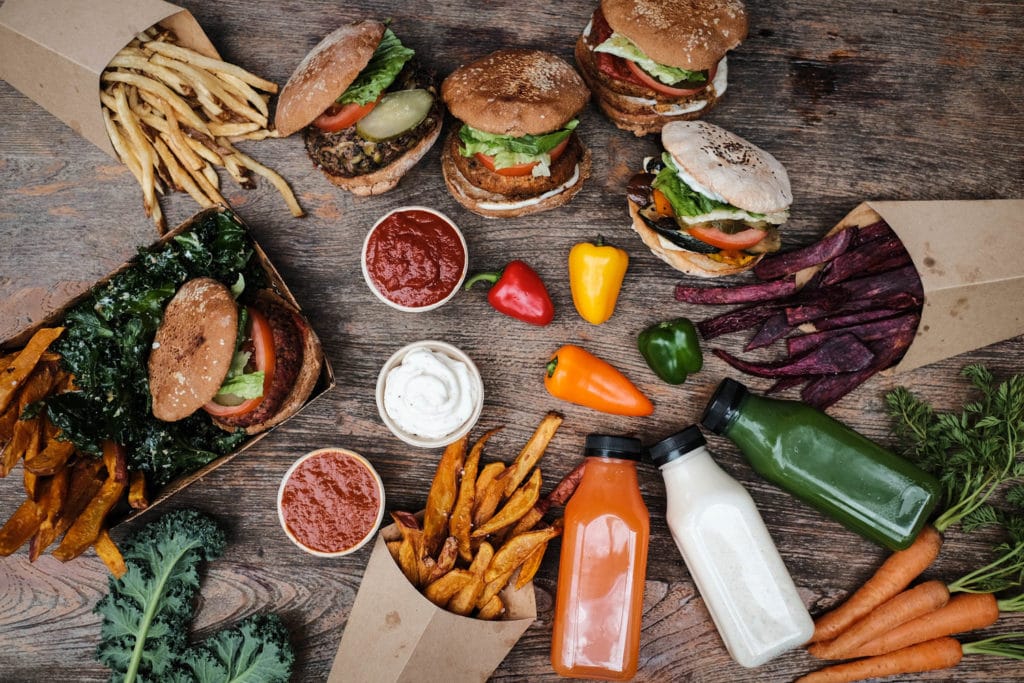 MANA!
MANA! are on a mission to save the world, one delicious meal at a time. Its food revolution of vegetarian, vegan and organic plant-based dishes is backed up with a healthy dose of eco-consciousness: policies of zero-food waste, free water, and biodegradable packaging see them putting their money where their bean-burger-filled mouths are and making a serious impact on the environment. Its diverse menu of 'fast slow food' includes a range of zaatar flatbreads, veggie burgers, and Lebanese-inspired meze boxes. As they put it, it's food that doesn't cost the Earth, making it one of our spots for ethical vegetarian and vegan dining in Hong Kong.
Multiple locations | Facebook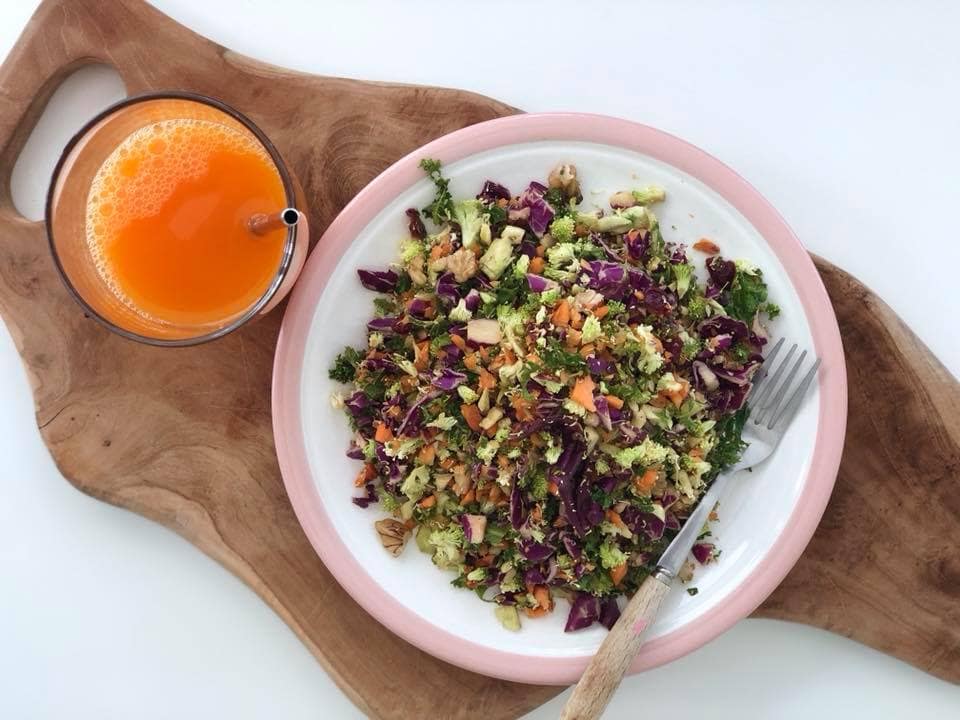 Genie Juicery
Known for its cold-pressed juices, Genie Juicery also makes delicious raw and vegan dishes. A bowl of Bolognese Zoodles is the perfect rainy day lunch—especially when paired with a dessert. We've got our eyes on the Chocolate and Goji Macaroons. An environmentally friendly and cruelty-free option for those around Central, and they deliver. Some of their drinks do contain honey, so be sure to double-check.
Various locations | geniejuicery.com| @geniejuicery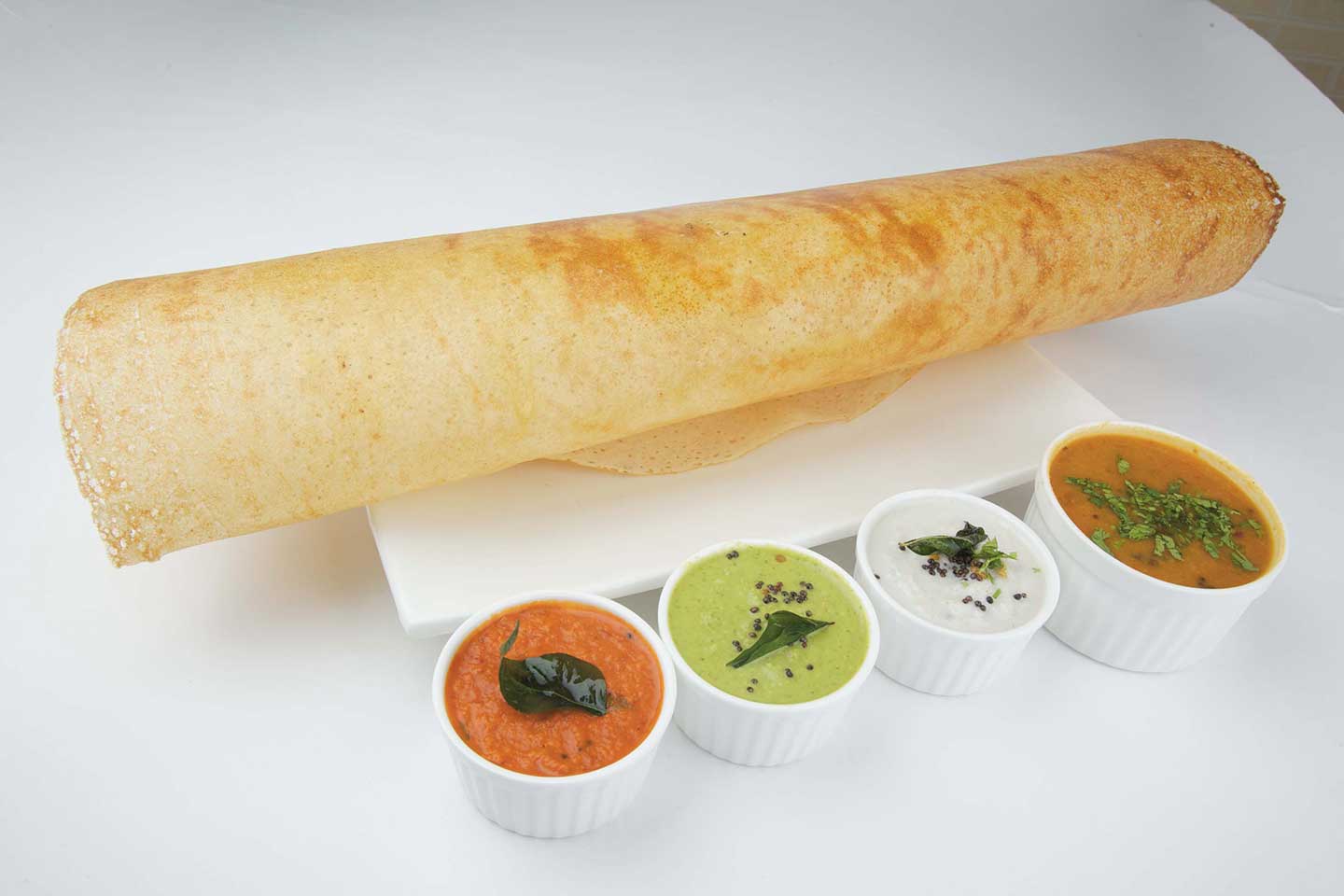 Sangeetha
Completely vegetarian and mostly vegan, Sangeetha is not only one of the best Indian restaurants but also a favourite in Hong Kong's dining scene. One of the leading restaurant chains in Chennai, this restaurant gives little indication of being a franchise with warm service and delicious food every time. Specialising in South Indian cuisine, enjoy their signature dosas with a variety of toppings.
UG 1-5 & 31, Wing On Plaza, 62 Mody Road, East Tsim Sha Tsui, HK | sangeetha.com.hk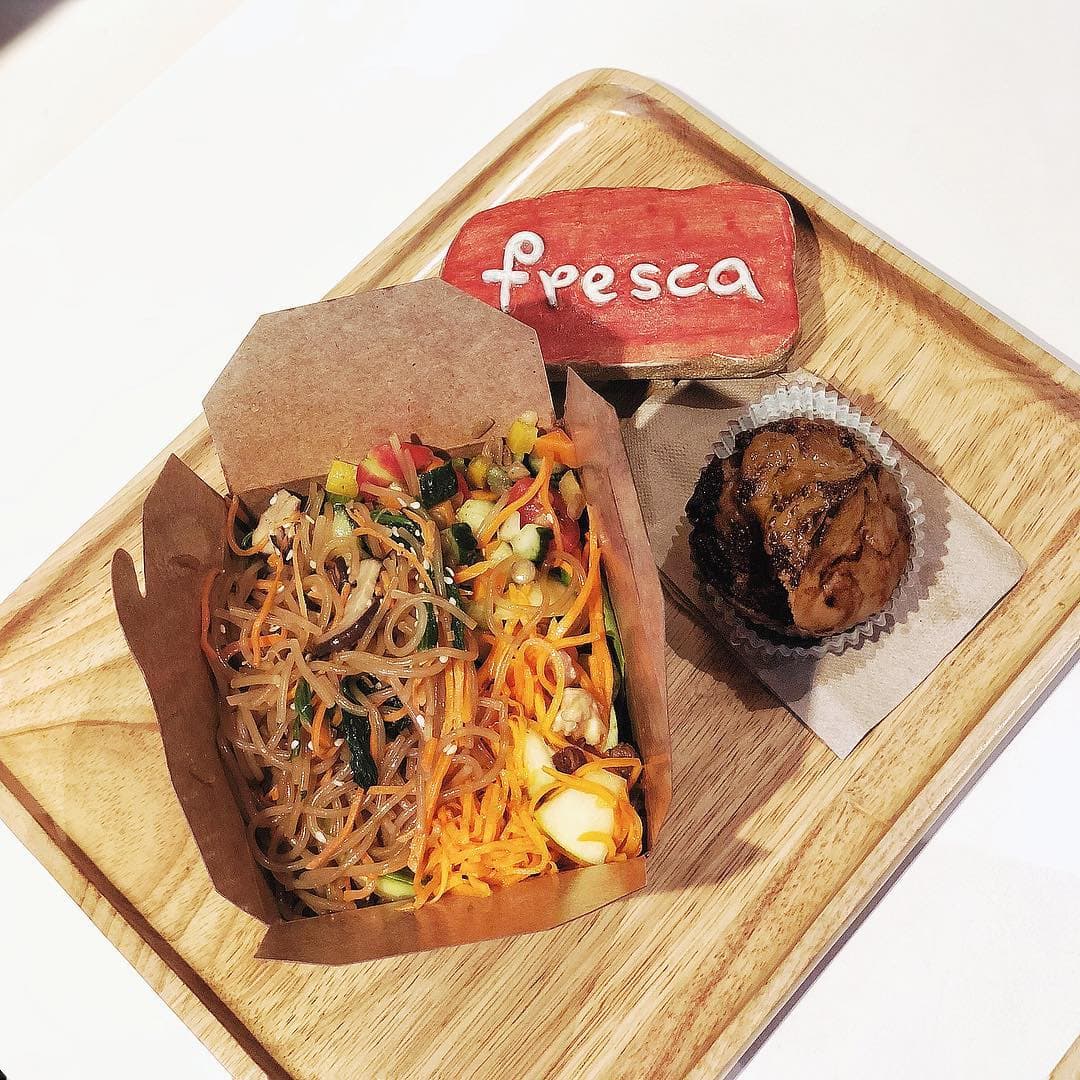 Fresca
This neighbourhood Central cafe offers salads to go or dine-in. Using only the freshest, personally selected ingredients, the produce comes from private Hong Kong gardens and farms. Hot and cold, the selection of fresh daily salads (all vegetarian, and indicated whether they are vegan or gluten-free which on most days comprises most of the menu). With a range of salads inspired from East to West, there's something to suit every taste here.
54A Hollywood Road, Central, Hong Kong | frescahk.com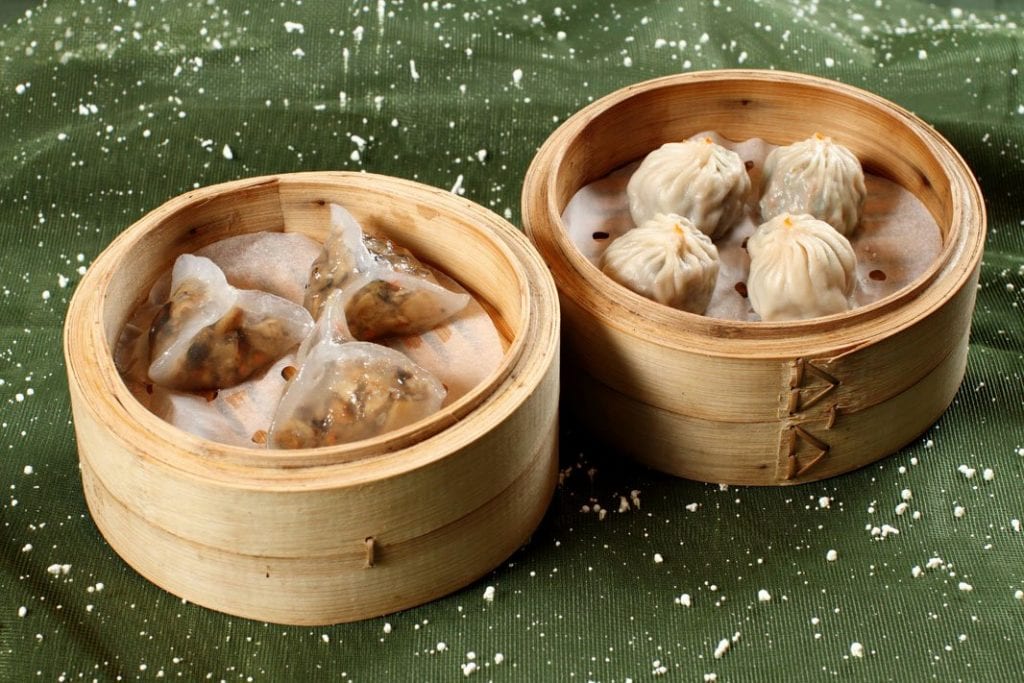 Pure Veggie House
This opulent vegetarian restaurant in Hong Kong serves up unconventional dishes in a beautifully serene Buddhist environment. With no added spices or MSG, the chefs here are masters at teasing out the dynamic flavours of all-natural vegetables sourced from their own Kang Zhi Yuan farm. Dishes here are presented not as food, but as art, with no effort being spared on presentation. The Braised Lotus Seeds Wrapped in Sliced Winter Melon is particularly Instagramable, and the vegan dim sum is worth trying.
Pure Veggie House, 3F Coda Plaza, 51 Garden Road, Mid-Levels, Central, Hong Kong | (+852) 2525 0552 | Facebook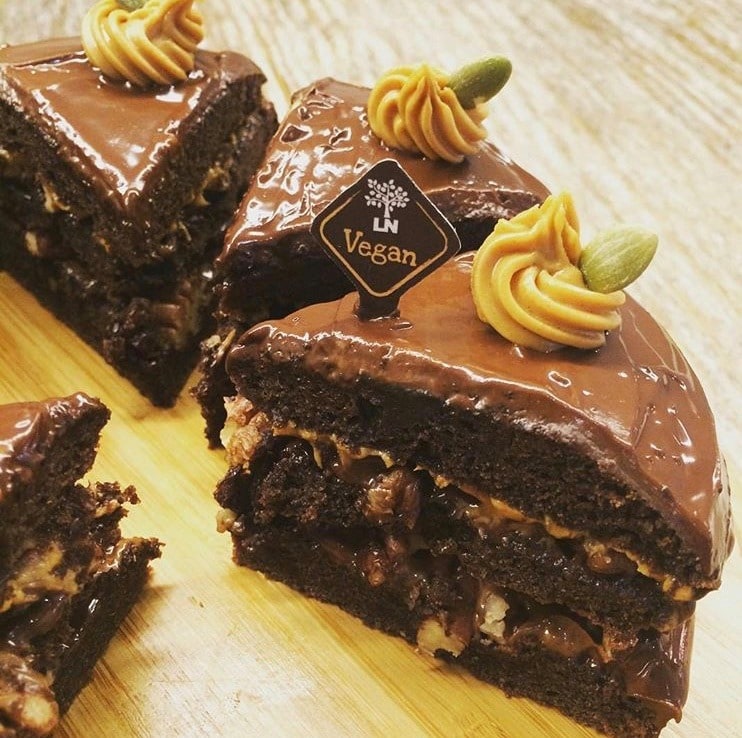 LN Fortunate Coffee
The go-to spot for artisanal coffees and vegan food in Sai Ying Pun, this spacious restaurant—part of an international vegan franchise—boasts thick butchers-block tables and exposed lightbulbs, creating a homey-chic feel that makes you crave a second Almond Milk Latte. Clever veggie substitutes like starchy konjac and fibrous hericium mushroom (great for improved memory) help recreate vegan versions of classics—think jacket potatoes, burgers and even crispy calamari. Its rotating coffee selection is sourced from local shop Urban Coffee Roaster, and the options change weekly.
118 Second Street, Sai Ying Pun | (+852) 2858 3898 | Facebook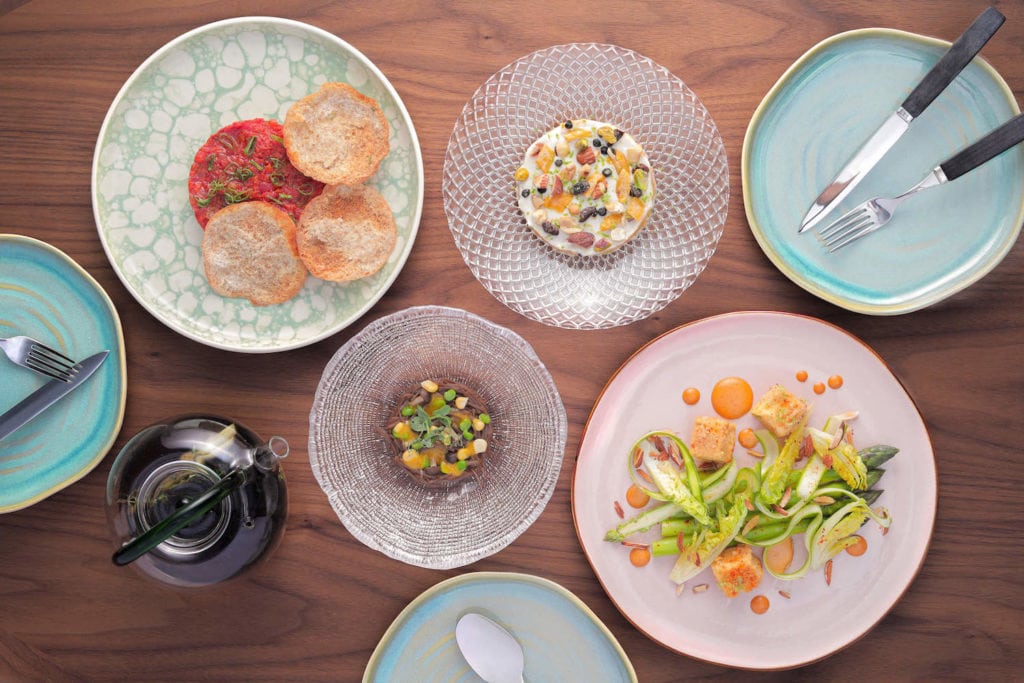 Vegan-Friendly
Asaya Kitchen
The latest addition to Hong Kong's wellness dining scene, Asaya Kitchen offers up organic, nutrient-dense plant-based and pescatarian dining. The menu features raw vegan dishes like the Autumn Salad and Semi-Dried Tomato Tartare. Everything is made fresh, so just ask the kitchen about your specific dietary requirements.
6/F Rosewood Hong Kong Victoria Dockside, 18 Salisbury Road, Tsim Sha Tsui, Kowloon, Hong Kong | +852 3891 8732 | rosewoodhotels.com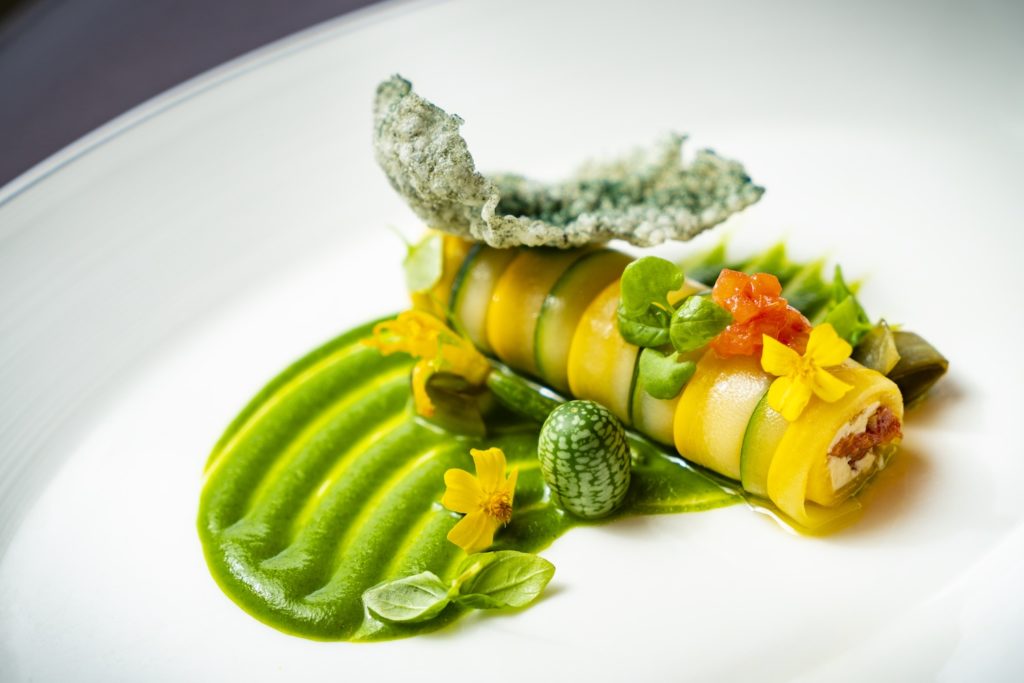 Café Grey Deluxe
One of the best options for those entertaining a large group with diverse dietary requirements, Café Grey Deluxe's revitalising menu is vegan, gluten-free, organic, non-GMO and sustainably sourced, pretty much hitting all the major ethical and dietary concerns in one. Dishes like Cabbage Terrine and Cauliflower Soup offer a light, health-conscious alternative to more indulgent fine-dining menus, and the chocolate mendiants at the end of the meal are divine. A la Carte dishes can be adapted for vegan diets, too, and non-drinkers can enjoy the wide-range of Seedlip cocktails developed by the bar.
49F, The Upper House Pacific Place 88, Queensway, Admiralty | (+852) 3968 1106 | upperhouse.com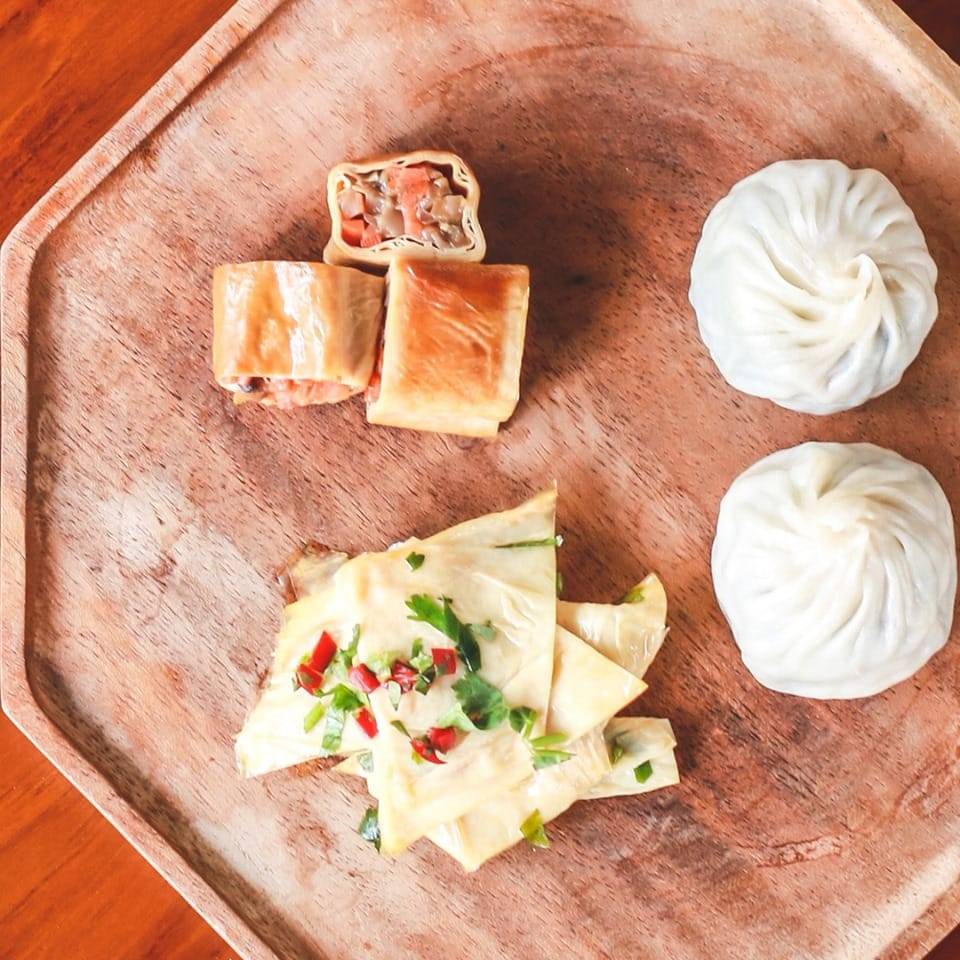 Old Bailey
Vegan dim sum is cropping up more frequently as the plant-based movement takes off, and Old Bailey is the latest traditional Chinese restaurant to get on board. While its Shanghainese-inspired à la carte menu has plenty of vegetarian and vegan choices, it's the all-vegan dim sum lunch menu that has earned them a place on our list: the six-course set menu serves up plant-based takes on classic dishes like xiaolongbao, spring rolls and tea-smoked bean curd roll, rounded off with petit fours.
2/F JC Contemporary, Tai Kwun, Old Bailey Street, Central | (+852) 2877 8711 | oldbailey.hk
Beef & Liberty
An unexpected entry on a plant-based dining list? Perhaps. But Beef & Liberty is probably one of the best examples of how a meat-centric restaurant concept can pivot to embrace plant-based dining and open up the cuisine to those who had never considered it. Beef & Liberty has made its entire burger menu vegetarian and vegan-friendly, by offering the option of a beef or Impossible patty. Vegan cheese and Impossible 'chilli' are also available to make all of the menu choices vegan-friendly, and for those who are skipping the alternative proteins there are are still two whole-food vegan burger options. Dedicated to sustainability, the restaurant is trying to minimise its kitchen waste and single-use plastic, as well as exploring energy-saving kitchen technology and procedures.
Multiple locations | beef-liberty.com/hk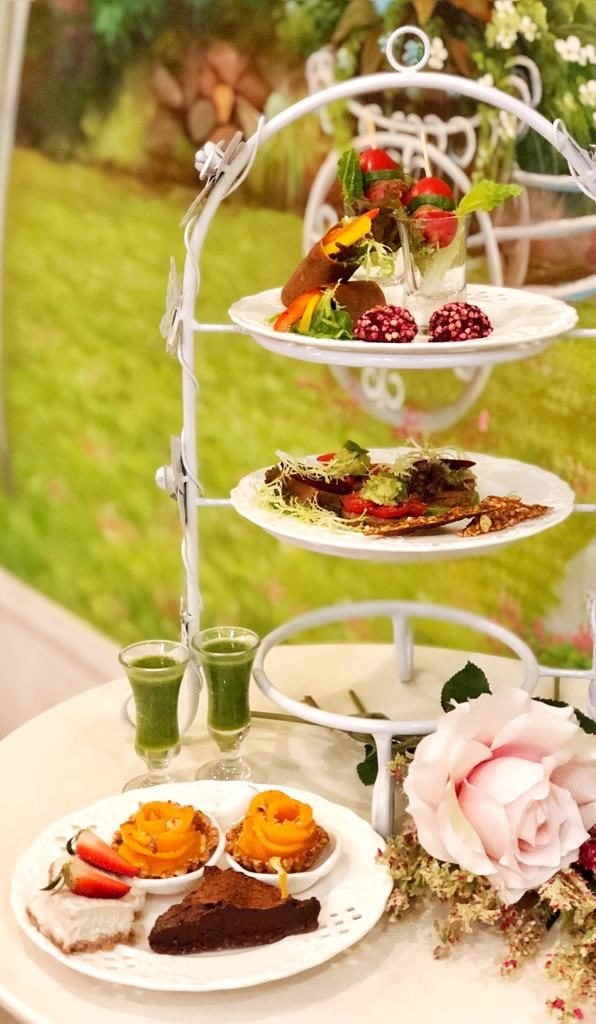 Rondavy's Artisan Kitchen
If you were sad to see Alpha Living Planet's Kwun Tong store shut, fear not: the raw vegan foodies now partner with other non-vegan restaurants to provide vegan menus that not only cater to vegans but have separate utensils and equipment in the food preparation process. Its latest partner is Rondavy's Artisan Kitchen in Causeway Bay, now serving raw, vegan and gluten-free high tea, including avocado crostini, turmeric superfood wrap, and lemongrass and lime chia pudding.
Rondavy Artisan Kitchen, 11/F, Bartlock Centre, 3 Yiu Wa Street, Causeway Bay | Facebook
This article was first published in 2017, and updated in November 2019