At the bottom of Wellington Street, between Central and Sheung Wan, Miss Lee is the latest addition to Hong Kong's vegetarian food scene. Serving up diet-friendly vegetarian and vegan Chinese cuisine with a contemporary twist, this fresh-faced diner puts a health-conscious spin on classic Hong Kong dishes.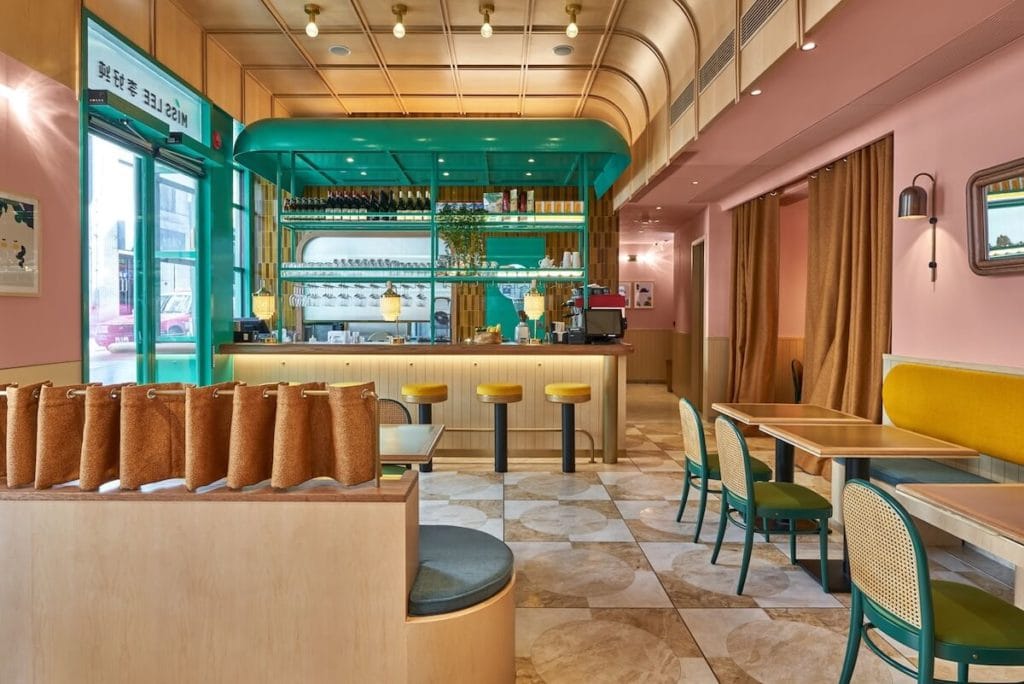 Colourful interior
Rocking a retro-chic 1970s vibe, Miss Lee is a blend of pop-pastel colours and moody vintage: think bubblegum pink and minimalist pop art in one corner, with mustard yellow tiles and ochre-brown booths in another. Somehow, it works: the bold colours clash together in a way that feels uniform, and the uniting gold highlight—gold tables, gold-edged plates, and gold cutlery—pulls everything together.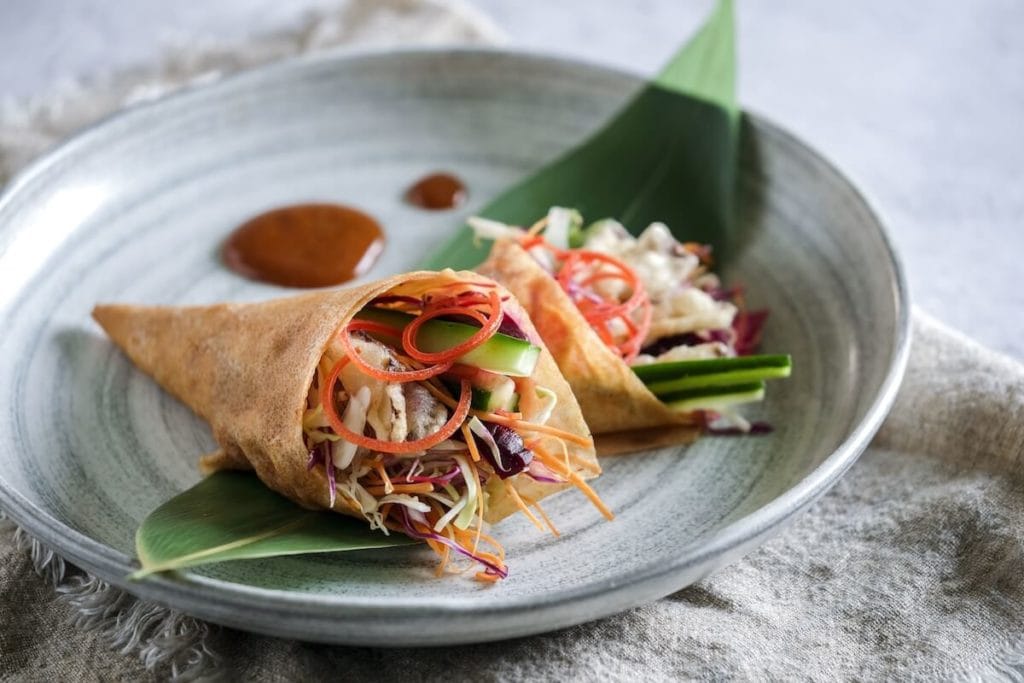 Plant-based Chinese Menu
The sister restaurant of Lee Lo Mei just 350 metres away, Miss Lee operates a similar contemporary Chinese theme. The twist is, it's all vegetarian. Miss Lee does away with the mock meats traditionally used in Chinese vegetarian cooking, and produces a cleaner, sleeker version of classic dishes: think mapo eggplant with soy mince rather than pork, and textured bean curd sheets in lieu of chicken for the sweet and sour dishes. 
See also: The Ultimate Guide to Plant-Based & Vegan Dining In Hong Kong
Catering to all diets, allergies and intolerances, the menus clearly outline Buddhist-friendly, dairy-free, egg-free, gluten-free and vegan items, making it easy to select from the wide range of dishes. 
The restaurant offers set lunch, signature dinner, takeaway, and a la carte menus, ranging from appetisers through to desserts. Continuing with the healthy dining theme, diners can opt to do a 'juice pairing' with the chef's signature menu, though alcohol is available.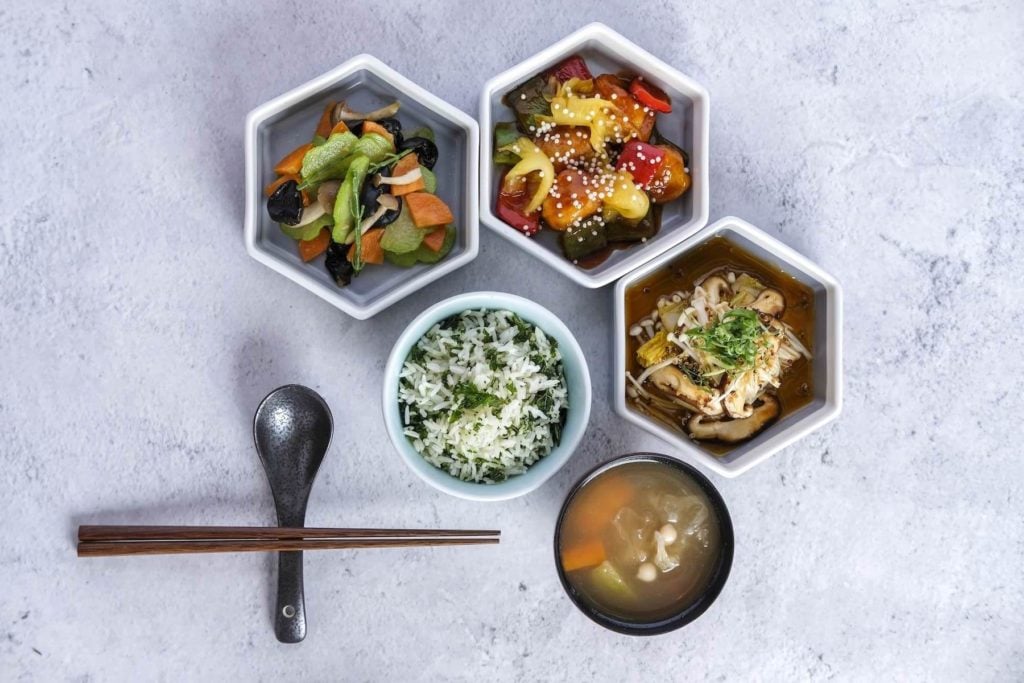 Light Lunch
Visiting as a group of four at lunchtime, we ordered all eight of the main dishes on the set menu, to try a bit of everything. I tried the Tropical Passion juice, a refreshing mix of passionfruit, carrot, turmeric and pineapple, and we started with the Flower Bouquet side: a vegan wrap of  shredded vegetables with a plum dipping sauce, it was a tasty light bite before our meal.
The lunch set ranges from HK$118-138, depending on whether you get one, two or three 'main' dishes. Each set also comes with a bowl of noodles or rice, and a soup of the day. Diners can add sides, dessert, smoothies or fresh-pressed juices to their lunch for an added cost.
See also: abillionveg Founder Vikas Garg On Animal Activism & The App To Help You Go Vegan
Each dish was unique in its flavours and generous in size: if you have a group together, it's ideal sharing portions. While everything was delicious, there were a few stand-out dishes for me: the sweet and sour with pineapple, peppers and beancurd was tangy and warming, the mapo eggplant was perfectly tender, and the braised lotus root in fermented bean curd had a rich flavour and unique texture. As an egg-enthusiast, I also loved the Chinese omelette, which was particularly filling.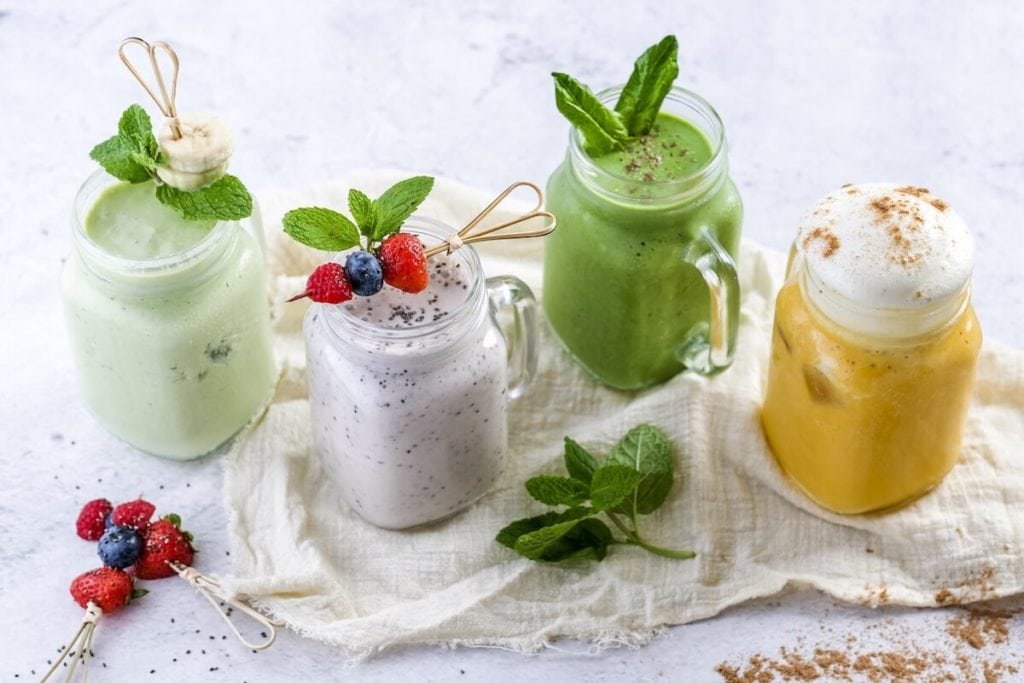 To accompany these main dishes, diners can choose from four rice or noodle options—I went with the truffle and mixed mushroom yam noodles. The delicate truffle flavour complemented the chewy texture of the noodles perfectly. The seaweed soup, akin to a miso, wasn't quite salty or sour enough for my taste, though it rounded out the meal nicely.
Dessert—though I was far past full by the time we got there—was a light bite to finish off with. The mango coconut noodles were refreshing, though not very faithful to the Thai mango sticky rice it's inspired by. The hawthorn chocolate cake relies heavily on the tasty hawthorn sorbet—sharp and sour, it adds a new edge to an otherwise standard chocolate sponge.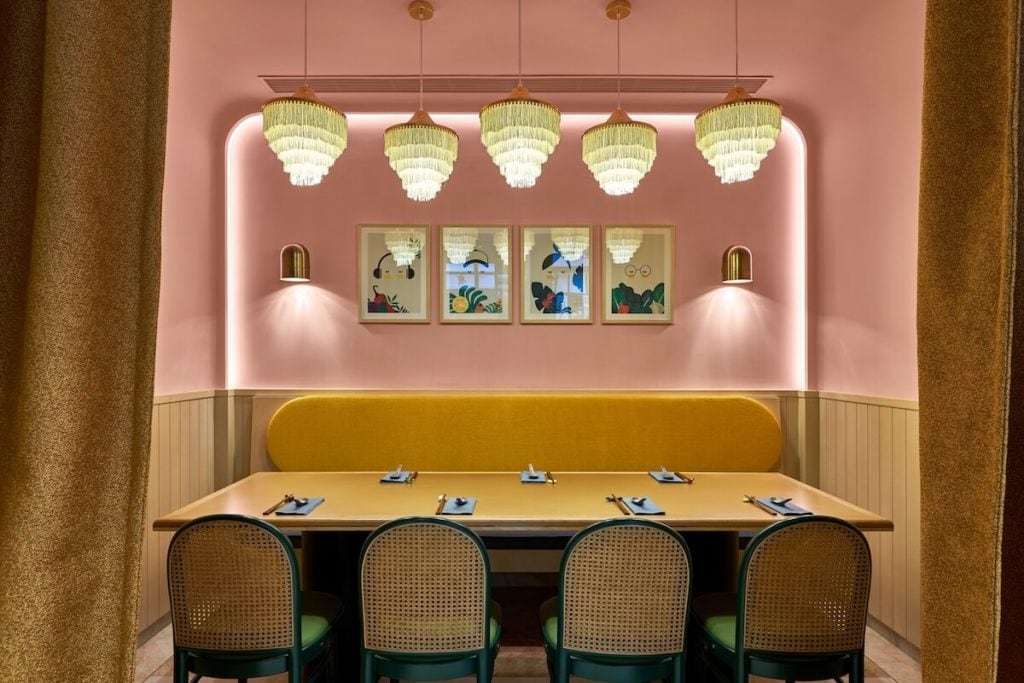 Health-Conscious Dining
It's refreshing to see a vegetarian diner that isn't just jumping on the salad-bowl-and-wrap bandwagon, which meets somewhere in the middle between casual and high-end. Vegetarian Chinese dining is available around the city, but what Miss Lee brings to the table is clear food labelling that makes it accessible for those with dietary requirements. It's a stylish setting for simple, delicious food that is both satisfying and wholesome. For a light lunch or healthy date night, Miss Lee ticks all the boxes.  
Find out more about Miss Lee here: misslee.hk