As the summer season beckons, there is an array of enticing new luxury wellness hotel openings awaiting exploration. Whether your heart yearns for a design-centric sojourn in the charming city of Munich or a rejuvenating wellness retreat amidst the ancient wonders of Rome, we have curated a list of eight captivating new establishments that have piqued our interest and are surely worthy additions to our travel aspirations this year.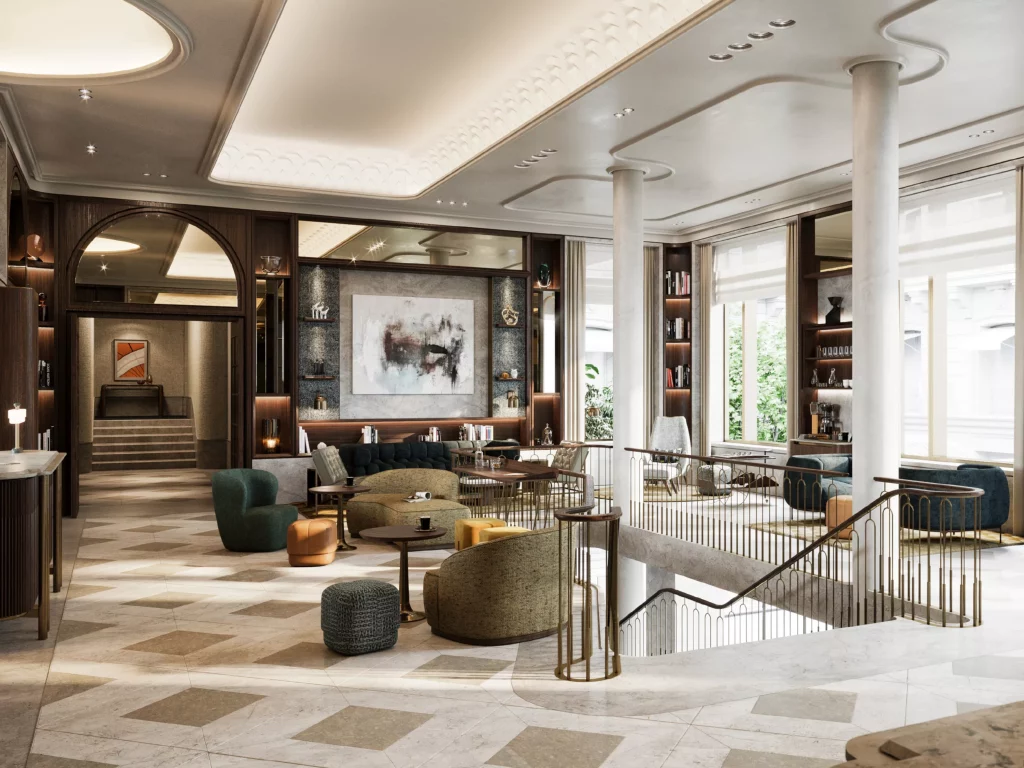 1. Rosewood Munich, Germany
Set to open in late 2023, Rosewood's inaugural property in Germany occupies a prime location on Kardinal-Faulhaber-Strasse, right at the heart of the historic city centre. With 132 spacious guestrooms and suites, the establishment will feature an inviting lobby lounge, a bar and restaurant, as well as a comprehensive spa with five treatment rooms, an indoor pool, and a fitness area. The property exudes a sense of history, being housed within two landmark buildings—the former headquarters of the State Bank of Bavaria and the adjacent Palais Neuhaus-Preysing, a once majestic aristocratic residence.
Opening in late 2023
2. Aman Janu Tokyo, Japan
Aman's Janu property in Tokyo is an urban wellness retreat that embraces Japanese minimalism. Opening in autumn 2023 at Azabudai Hills in the Kamiyacho district, it offers 122 light-filled rooms with large windows and private balconies. With six restaurants serving Japanese and Italian cuisine, a bar, lounge, and garden terrace, guests can enjoy a diverse culinary experience. The property boasts Tokyo's largest wellness facility and features spin classes, boxing, yoga, simulated golf, a spa, a gym, a 25-meter heated pool, and two spa houses.
Opening in autumn 2023
See also: 4 Aman General Managers On Their Top Wellness Travel Essentials For Every Trip
3. COMO Orchard, Singapore
COMO is set to open its Singapore property at the prestigious 30 Bideford Road. The boutique hotel, COMO Orchard, will offer a multi-label fashion retail space curated by Club21, gourmet concepts led by acclaimed Michelin-starred chefs, and a new urban wellness space by COMO Shambhala. The opening will take place in phases, starting with COMO Metropolitan Singapore.
Opening in the second half of 2023
4. Six Senses Rome, Italy
Six Senses Rome, which opened earlier this year, offers a collection of 96 guest rooms and suites within the historic Palazzo Salviati Cesi Mellini. This urban resort provides a sensory-rich experience for both international travellers and locals. Guests can enjoy two restaurants: Bivium, with its Roman piazza-style ambiance and farm-to-table cuisine, and Rooftop Notos, boasting fragrant herb gardens. The spa at Six Senses Rome offers a range of activities including aerial yoga, meditation, and sound therapy, and features a healing hammam and three plunge pools.
5. The Cōmodo, Austria
Tucked away in the tranquil village of Bad Gastein, the cōmodo presents itself as an idyllic haven for those with an affinity for design. Once a regal retreat, this extraordinary property is perched high at an elevation of 1,000 meters, offering guests a delightful fusion of midcentury charm, awe-inspiring mountain vistas, and a harmonious blend of art, nature, and wellness. Anticipate delectable farm-to-table cuisine and indulge in the restorative powers of the spa, which draws upon the rejuvenating properties of the Gastein thermal water.
See also: Belmond La Residencia: An Artistic Spa Retreat In Deià
6. Six Senses Vana, India
One of the top wellness retreats in India has been rebranded as Six Senses Vana under the Six Senses Group. Located in the picturesque Himalayan foothills, this dedicated retreat offers a transformative experience focused on Ayurveda, yoga, Tibetan medicine, and natural healing therapies. Guests have the option to stay for a minimum of three nights or immerse themselves in a month-long holistic healing journey, aiming to unlock their spiritual, emotional, physical, and intellectual potential.
7. Capella Sydney, Australia
Capella Sydney opened in March, offering a luxurious addition to Australia's hospitality scene. Located in the historic Sandstone precinct of the capital city, the hotel provides elegant rooms and suites. With three dining venues in close proximity to the iconic Sydney Opera House and Harbour Bridge, guests can enjoy spectacular views. Wellness amenities include a heated indoor pool, fitness centre, yoga platform, and the renowned Auriga spa for rejuvenating treatments.
See also: Regent Phu Quoc: A Luxurious Beachfront Retreat In Vietnam
8. Yun Wellness at Island Shangri-La, Hong Kong
Yun Wellness is Shangri-La Group's new wellness club and spa. Making its debut at Hong Kong's Island Shangri-La, guests can expect an immersive holistic experience, with offerings ranging from body treatments and facials to pre-and-post-natal care and physiotherapy. On-site facilities include a communal area, a spa, a 28.5-metre outdoor swimming pool, a cutting-edge gym with state-of-the-art facilities and a hair salon.
Check availability at Island Shangri-La Hotel to discover Yun Wellness