Personalisation is all the rage in, well, everything these days, and the best luxury wellness retreats know that tailoring health and fitness to each person's needs is vital. Sometimes it's not so much about personalisation though as wanting to do your own thing—which is exactly what Compare Retreats' wellness expert and yogi Gretchen Lagrange was looking for when she headed to Bali this summer. Taking time out from schedules and looking for a more restive retreat than many intensive programmes offer, Gretchen checked into COMO Uma Ubud's jungle resort for a little DIY wellness retreat with an extensive menu of optional yoga sessions, fitness activities, and COMO Shambhala's signature spa therapies…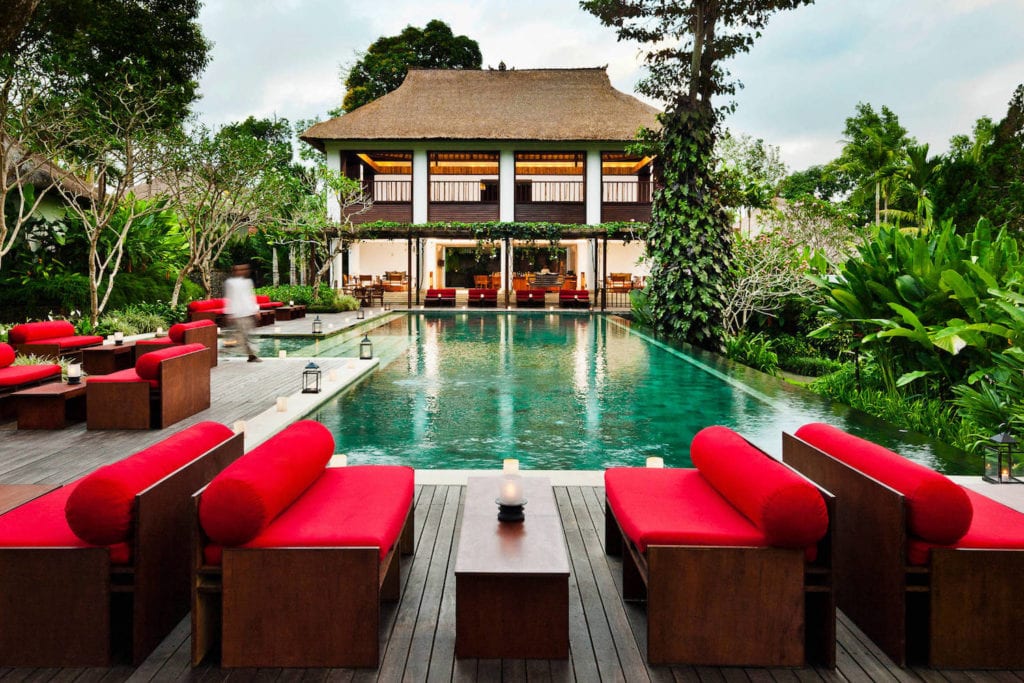 Jungle Location
COMO Uma Ubud is just over an hour drive from Bali's Ngurah Rai International Airport (DPS) and is nestled in the hills overlooking the lush Tjampuhan Valley and River Oos, in Kedewantan, Ubud. Considered the spiritual heart of Bali, Ubud is also the centre for traditional dance and Balinese crafts. The name Ubud actually derives from the word "Ubad" which in Balinese means "medicine" and the area lives true to its moniker with signs for astrological readings and mystical healers on almost every street.
The resort's prime location is only a short 10-minute drive or 30-minute walk from Ubud's bustling town centre. Immediately I could smell a breeze of eucalyptus and peppermint essential oils in the air, two main ingredients in the signature COMO Shambala "Invigorate" scent which are in the decadent bath products in all of the rooms and villas of the hotel. At the desk, Cica and Nopri greeted me with by name with big smiles and handed me a scented cold towel and a refreshing homemade welcome drink of infused with local orange and pineapple juice with spicy syrup and ginger ale as I sat and filled out my registration.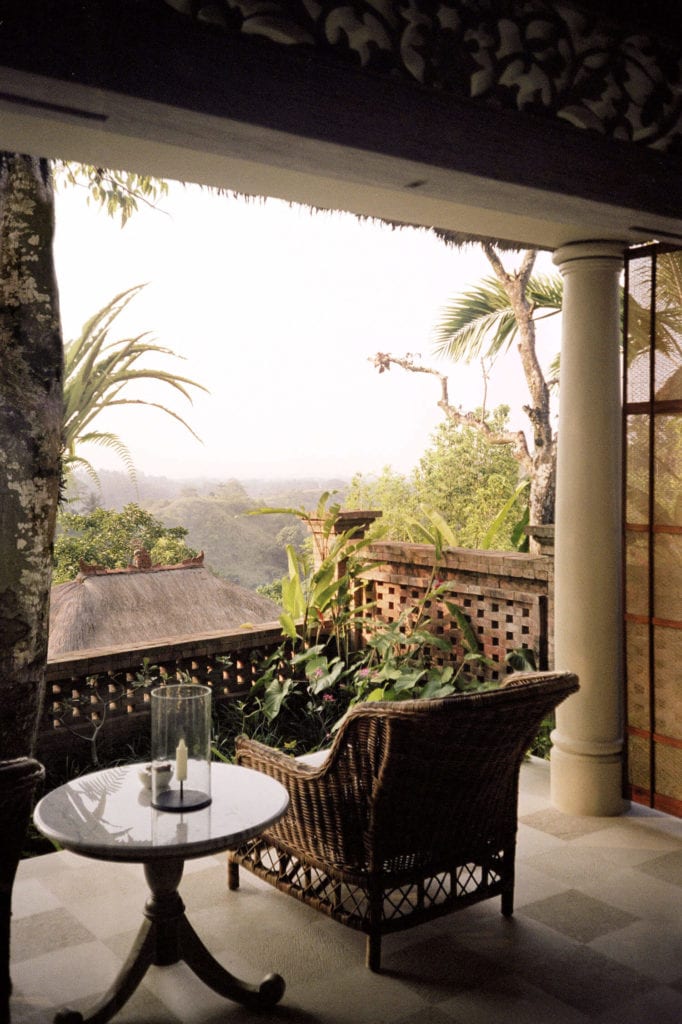 Cosy Resort
There are 46 rooms and villa suites that are dotted across the lush green property that one reaches on narrow stone paths surrounded by stone walls filled with plants and tropical flowers. Uma means "home" in Sanskrit and at Uma Ubud I truly felt like I was entering my own house in a gorgeous Balinese village, this immersive feeling in the culture and tradition is part of the COMO Uma brand DNA.
See also: The 10 Best Yoga Teachers In Bali For A Rejuvenating Practice
Other facilities on the property include the COMO Shambala Retreat and Spa featuring four treatment rooms, a small gym with modern equipment, a reflexology area, a 25-metre pool, a yoga studio and open-air yoga pavilion with stunning views of the Tjampuhan Valley.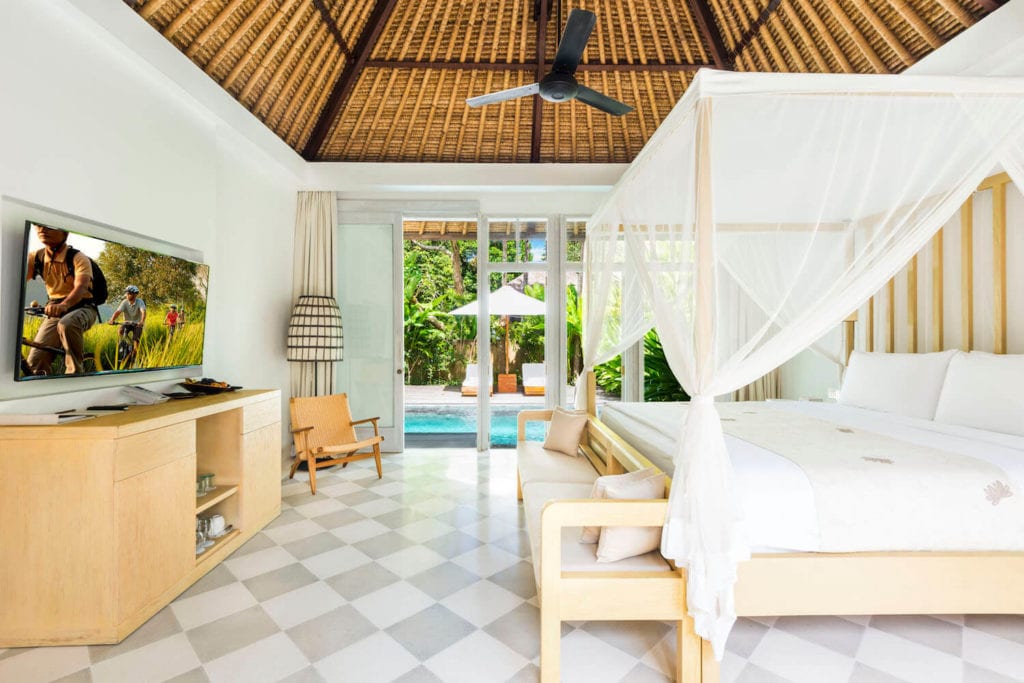 Modern Accommodation
I stayed in one of the eight Uma Pool villas. I entered my villa through two large traditional Balinese wooden doors where I could still smell the incense from the offering the staff place at all guest rooms daily. The rooms are understated and modern in design, with crisp whites and light brown tones and large polished floors throughout, letting the big windows and glass doors steal the show and fill the villa with light.
The highlight of this villa for me was the large outdoor shower right next to the pool that I could jump into to refresh right after an early morning dip.
My villa had a large green lawn and private swimming pool that overlooked the Tjampuan Valley and was the perfect spot to watch the sunset into the jungle valley. The pool villas make the most of outdoor space: the pool area had a large wooden sundeck with umbrella and two beds for sunbathing, covered daily in fresh fitted towels, as well as a large open terrace with a cosy day bed which was perfect for an afternoon nap and to hop out of the hot sun.
Inside the minimal modern villa, there is a four-poster king-size bed curtained with a romantically draped but practical mosquito net, a large desk, and a living room area. The large bathroom featured a double vanity an indoor/outdoor shower and bathtub. All rooms also have a minibar, espresso coffee machine and fresh fruits as well as one or two large-screen televisions.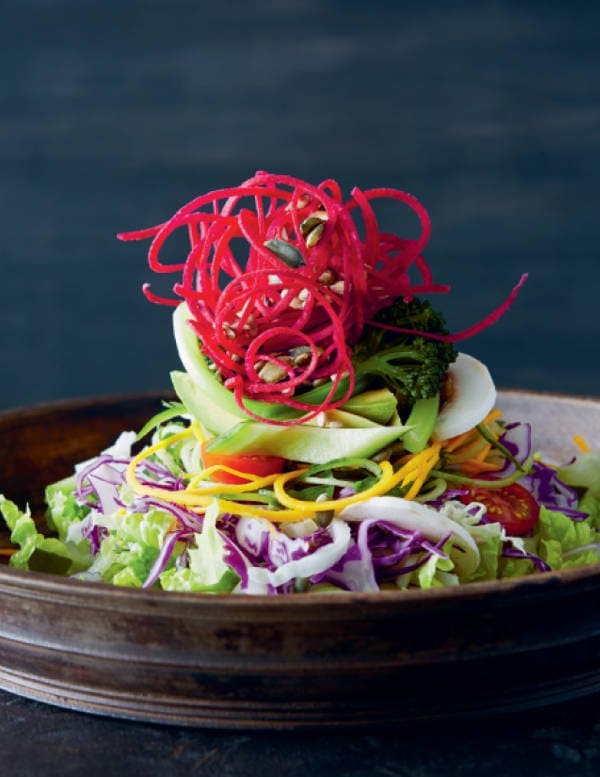 Spa-Inspired Nutrition
There are three restaurants at COMO Uma Ubud, all featuring dishes that use fresh local ingredients in a variety of different cuisines.
Uma Cucina is an Italian restaurant and lounge at the very front of the resort. Like all the restaurants on the property, it's informal, open and bright with a large wooden communal table. Cucina offers a range of lighter dishes like red snapper with sautéed kale and roasted chicken, but I would recommend coming here with an empty belly and leaving your calorie counter in your room because the menu also offers a range of homemade pasta and wood-fired pizzas as well as delicious Italian desserts: I'm still dreaming about the homemade white chocolate semifreddo topped with fresh mango and passionfruit.
See also: Retreat Recipes: COMO Shambhala's Big Raw Salad
Beneath the shade of a pergola hanging with white anthuriums, the Uma Pool Bar serves up healthful dishes and light snacks from the COMO Shambhala cuisine menu. Fresh salads and smoothies were my favourite choices, though there were plenty of Balinese dishes on the menu, made from local, nutritionally rich ingredients. 
My go-to was the homemade nut and seed flatbread with cashew hummus, avocado, rocket and tomato, washed down with a lean and clean green juice from the extensive COMO Shambala juice menu created by Eve Persak, COMO's resident nutritionist.
The third restaurant, Kemiri, is an open-air space covered by a traditional thatched Balinese alang alang rooftop surrounded by greenery. Kemiri's menu is more Asian-focused with fish, chicken and vegetables cooked in the wok and on the grill. The Indonesian-inspired black sea bass with chilli and fresh mango sambal was one of my favourite dishes.
Kemiri is where breakfast is served, one of the highlights of dining at Uma: a large buffet spread filled with-fresh-baked pastries, tropical fruits and homemade yoghurts, along with an à la carte menu with a special of the day, a full breakfast menu and a COMO Shambala's healthy dining options. With so many choices, I spent two hours each morning just lounging, drinking tea and eating.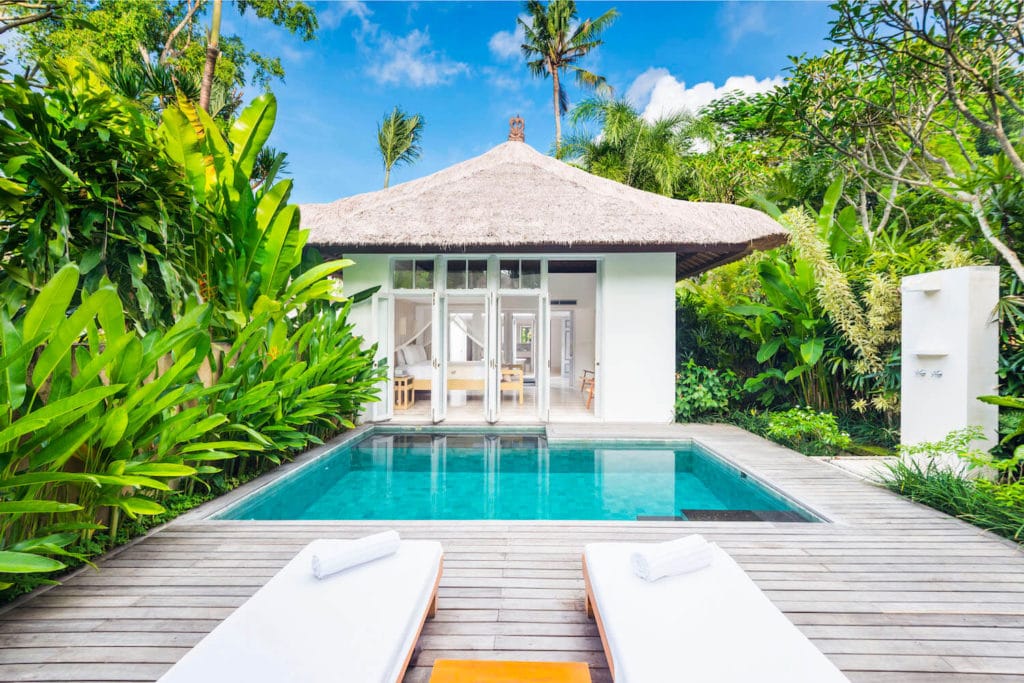 À la Carte Wellness Offerings
The COMO brand puts a huge focus on well being, and at Uma, I could feel this everywhere. Having stayed at Uma's sister property COMO Shambala Estate (which is also in Ubud) on a previous trip, I had already fallen in love with the whole COMO Shambala wellness concept and at Uma they apply the same philosophies. The main difference between Uma and the Estate is the latter offers more "deep-dive" wellness programmes whereas at Uma the experience is more 'wellness infused' than wellness-dedicated.
There are no full wellness retreat programmes here, but elements of the COMO Shambala retreat programme are integrated throughout: for example, the extensive spa and beauty menu or daily yoga classes and scheduled activities. As a yogi, I chose to focus on spa and yoga during my stay and both were blissful. Budi, who has been teaching different yoga styles for COMO for many years, taught a challenging vinyasa class at the stunning yoga pavilion that has the best views of any yoga studio I've practised at in Ubud.
07:30 Vinyasa yoga
09:00 Breakfast at Kemiri
11:00 Massage
12:00 COMO Shambala Lunch at Uma Pool Bar
14:30 Facial or body scrub at Spa
16:00 Afternoon Hatha yoga with Budi
17:30 Visit to the local markets & boutiques
19:30 Dinner at Uma Cucina
Uma offers yoga complimentary once or twice daily which I took full advantage of, with the option to add private classes if the daily ones didn't fit into my schedule or if I wanted to go a little deeper. The majority of my stay though was spent in the heavenly spa: even just entering the space I felt an instant sense of calmness.
During my two-day stay, I had a 90-minute deep tissue massage by the amazing Puri and an Indian head massage with Dewa who was strong but gentle and was able to coerce some tough knots out of my tight shoulders. Both treatments were stellar and both therapists worked with all-natural COMO oils. The spa has just re-opened after a renovation and now has male and female steam rooms and new state-of-the-art treatment rooms with all the luxuries you would expect of a COMO Shambala spa.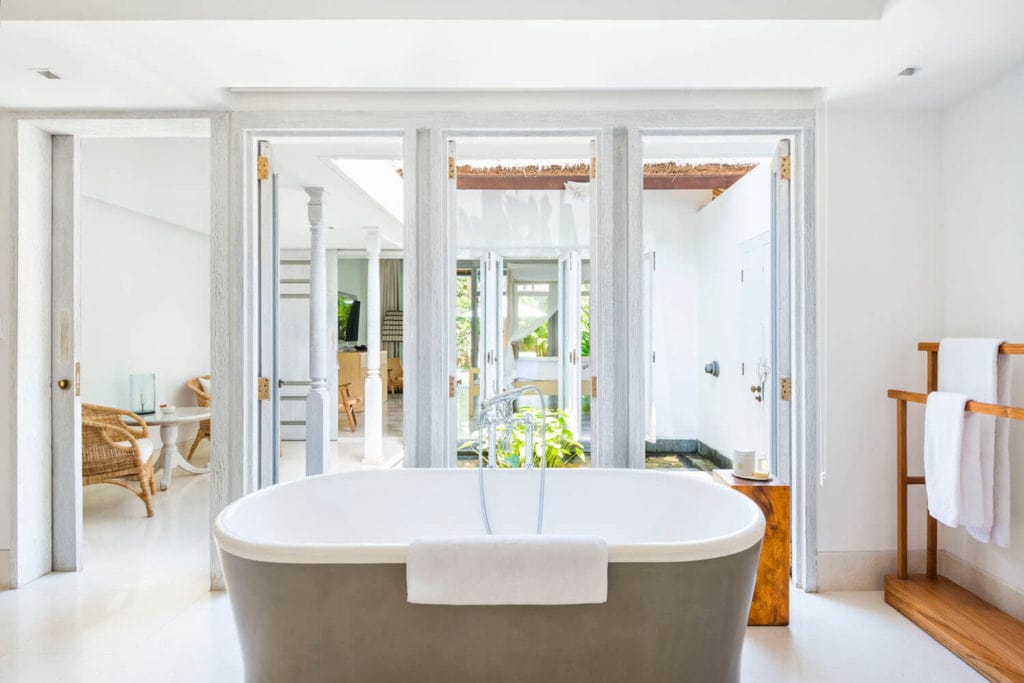 Results
COMO Uma Ubud was the ideal spot to truly relax, unwind, meditate and practice yoga. The newly-renovated spa is cosy, private and serene and the treatments where some of the best I've had in Bali.
With so many healthy options on the COMO Shambala cuisine menu, I never felt I was missing out when I chose it over the other menus; in fact, I looked forward to trying something new daily.
This is the kind of place where you make your own schedule and relax without a rigid itinerary. It's perfect if you're travelling with someone who perhaps isn't as health-conscious as yourself, but if you're looking for a programme to whip you into shape or give you a deep-dive detox, perhaps try Uma's sister resort.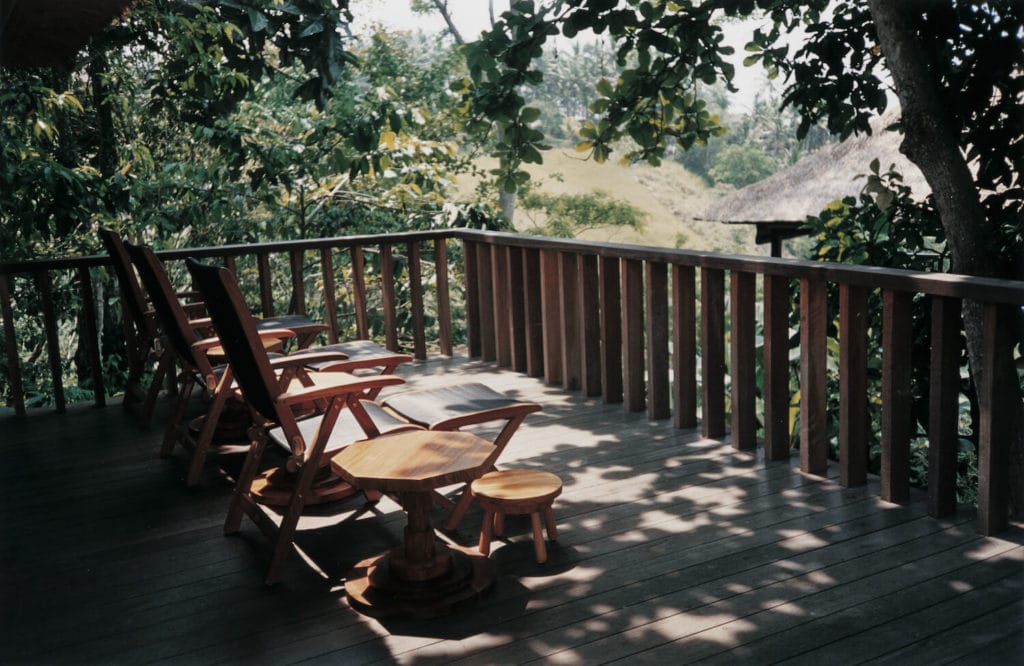 We loved…
The smaller boutique size of the hotel compared to other COMO properties meant it truly lived up to its name: it easy to feel instantly comfortable and at 'Uma' ('home'). The warm, friendly staff make this place so incredibly special, and they're always there to make sure you're enjoying your holiday. Gede Suteja, the General Manager of the property, was always around to offer a recommendation or just be sure I was having a great stay.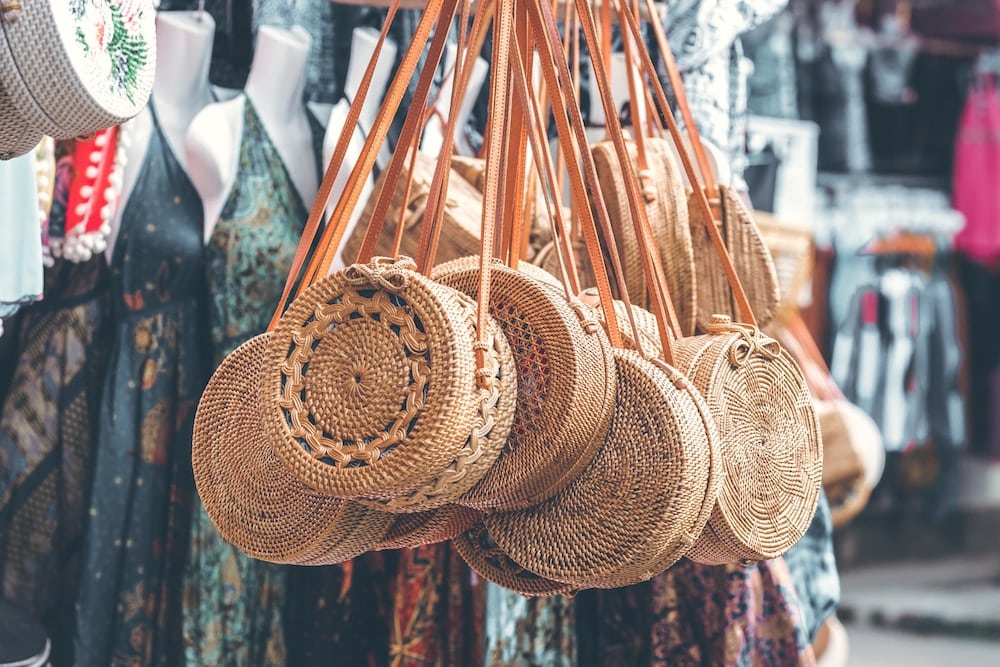 Our Insider Tip…
Take advantage of the free shuttle bus to Ubud's town centre and hit up the local markets and boutiques. COMO Uma Ubud is the perfect balance for anyone wanting to mix a little bit of tourism or cultural exploring with a wellness-focused "retreat" to keep their health on track.