Surrounded by jungle verdure, the gurgling of the Ayung River echoes in the valley where Four Seasons Sayan is nestled between rice terraces and the twining vines and roots of the Ubud rainforest. On an exclusive spiritual retreat led by the property's resident Buddhist nun and scholar, Compare Retreats' wellness expert and yoga enthusiast Gretchen Lagrange checks in to the luxury Balinese resort reset mind and body on a quest for inner peace…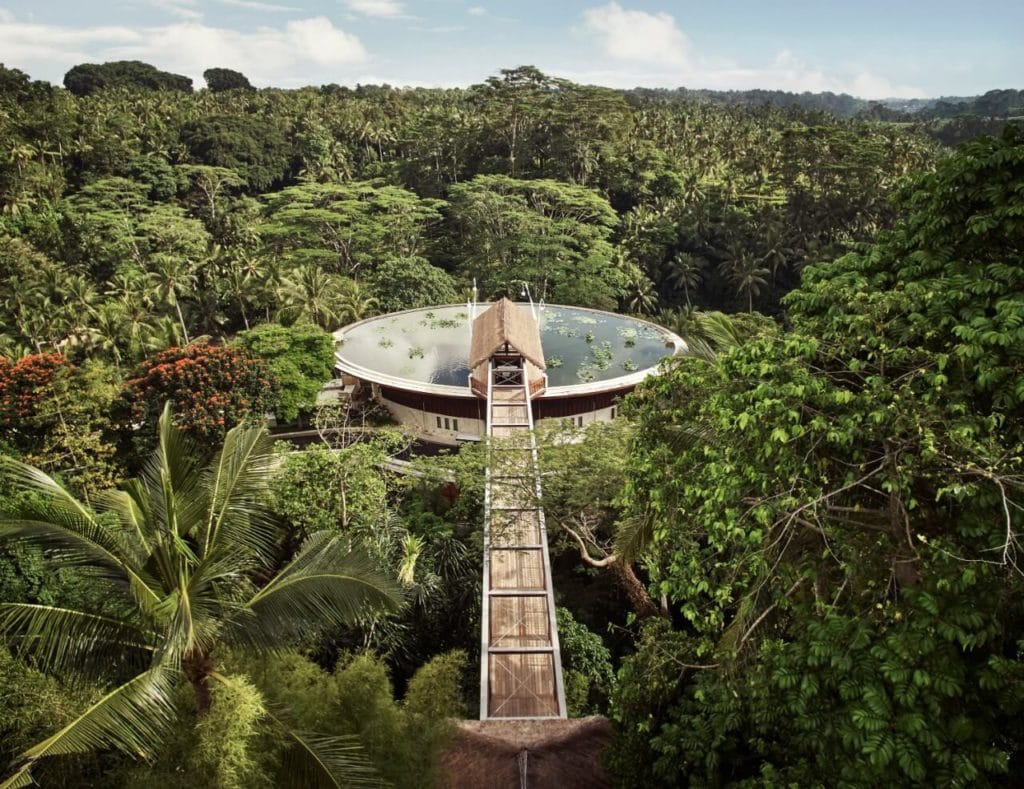 Jungle Location
It takes just over an hour from Ngurah Rai International Airport (DPS) to reach the central highlands of Ubud, which is considered the artistic and spiritual heart of Bali; it feels a world away from the tourist hubs in the south. Nestled in the lush jungle around Sayan village, just ten minutes from Ubud centre, the resort overlooks the Ayung River.
Guests enter the resort over a dramatic suspension bridge stretching over the treetops and valley between tree hut-like thatched-roof reception areas. Upon reaching the other side, it looked as though I was entering a huge, modern white space ship (or as I read other guests describe it, a big rice bowl), which offered panoramic views of the surrounding verdure.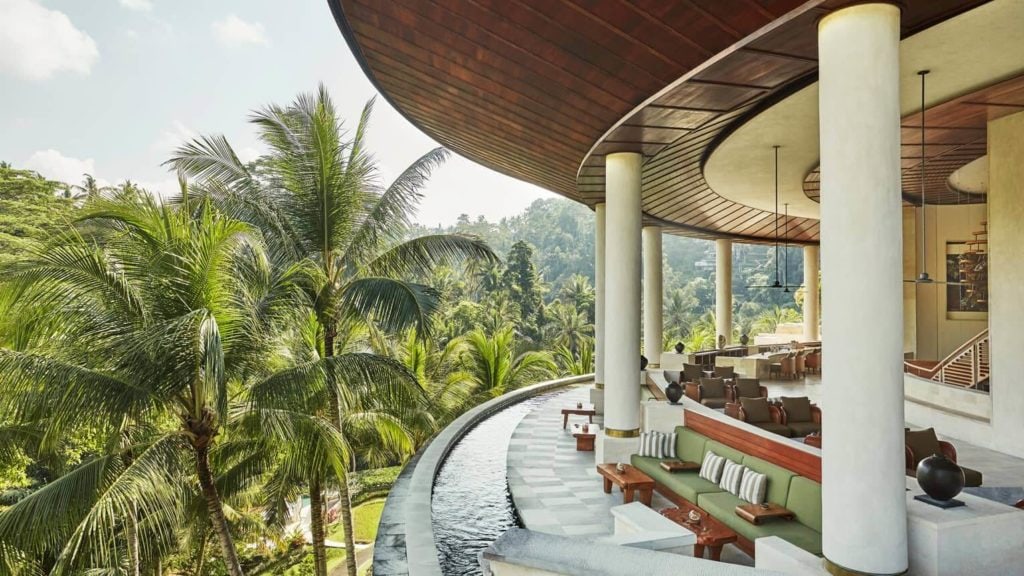 Riverside Resort
Winding along the Ayung River from reception through steps of active rice paddies and medicinal herb and vegetable gardens, 60 large suites and villas are scattered across the property's grounds. A large modern gym, beautiful spa, resort pool, two restaurants, a kids club, cooking school, gift shop, library and two gorgeous yoga bales—one nestled in the rice paddies and one platform on the bank of the Ayung River—provide guests with plenty of facilities to amuse themselves throughout their stay.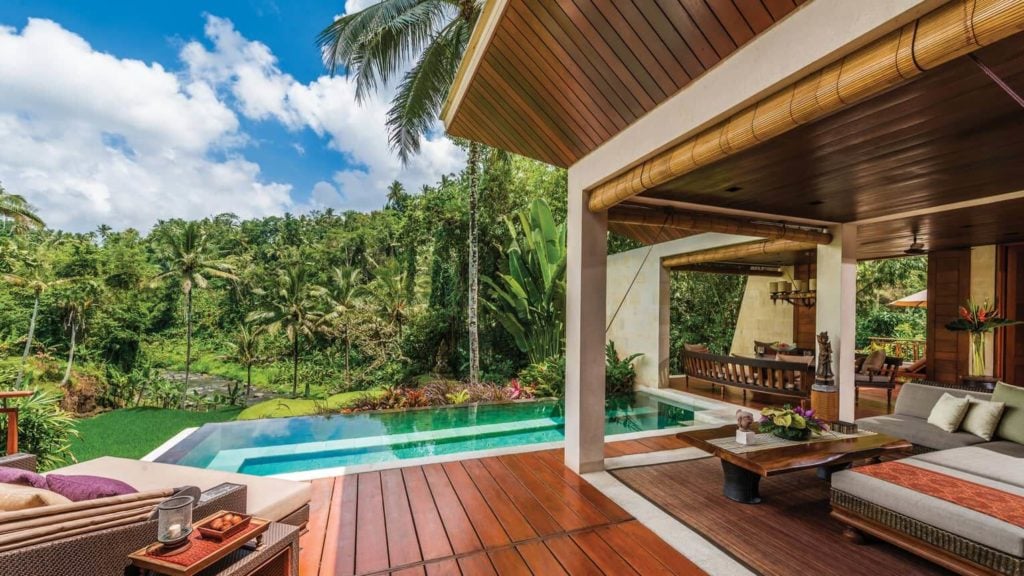 Inside-Out Accommodation
Uber-luxurious with hints of traditional Balinese teak wood and hand-loomed ikat fabric, Four Seasons Sayan weave together interior and exterior spaces for an immersive jungle experience. I stayed in a one-bedroom villa, facing the jungle gardens with the sound of the Ayung River bubbling in the background.
Described as a programme for anyone who needs time out to restore inner peace and strength, the retreat employs a combination of meditation techniques, blessing rituals, yoga and spa treatments.
The king-size bed faced a spacious deck and plunge pool, with a lounging area and a large comfy day bed with a convertible cover. Large bathrooms offer twin sinks, indoor and outdoor showers, and a deep bathtub with the option to open to the outside deck.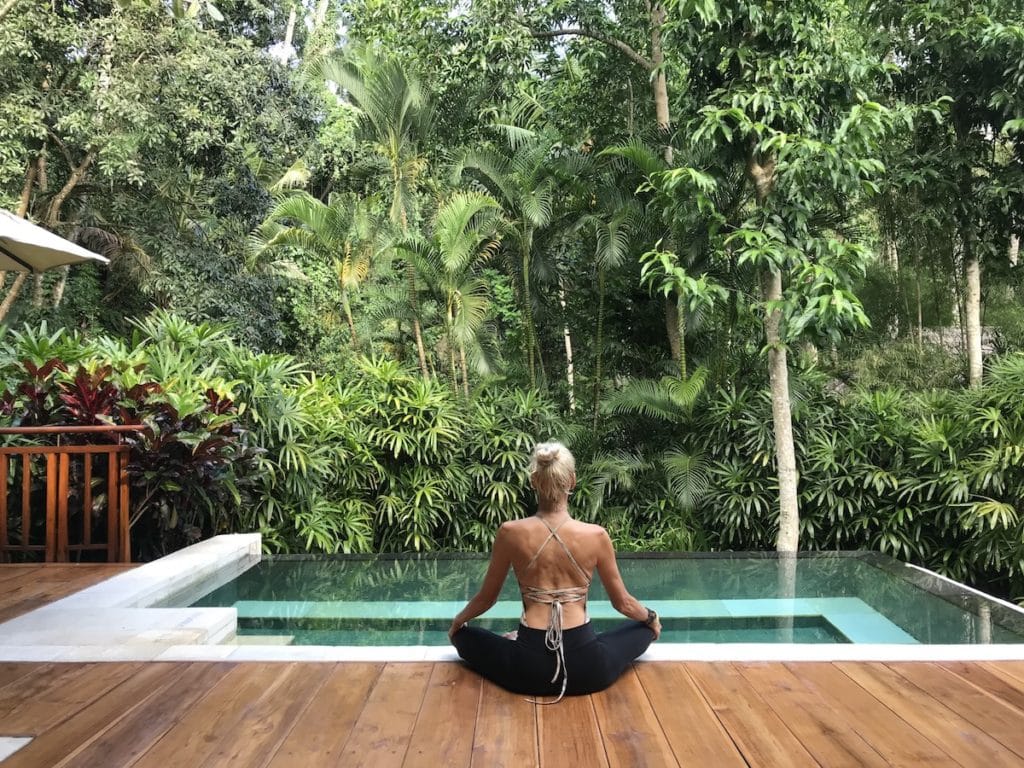 Even though I was busy most days with my programme, I spent my early mornings meditating on the deck while I listened to the hum of the river below. There was also a wooden deck as you enter the villa before you take a winding staircase down to the living quarters, where you can sit and look out on to your own small pond.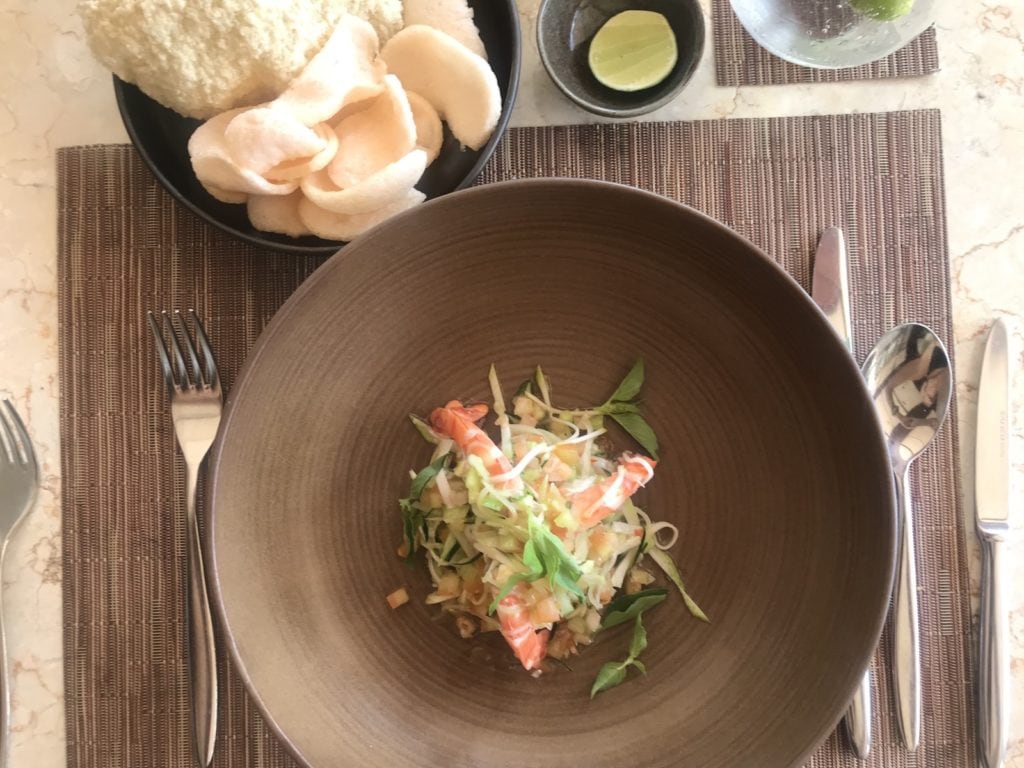 Health-Conscious Dining
There are two restaurants at Four Seasons Sayan: Ayung Terrace, featuring a contemporary twist on Indonesian cuisine, and The Riverside Terrace, the poolside cafe offering a range of European and Western dishes for lunch, dinner and all-day snacks.
See also: A Seaside Sound Healing Spa At Four Seasons Nam Hai
As I was doing the wellness programme, I opted for more health-conscious dishes for breakfast, clearly marked on the á la carte menu with dietary symbols (ie, gluten-free or vegetarian). Chef Jean Philippe Guirad has created a huge menu of 'small plates' ranging from healthy avocado toast and homemade spiced granola with almond milk (which I shamefully ordered two portions of one morning because it was that good) to Cherry Chocolate French toast.
Four Seasons Sayan offer a broad selection of Asian dishes, and sweet and savoury 'kickstarter' bowls on a menu designed so you can order multiple dishes to get a taste of everything. It's all made to order, unlike a typical hotel breakfast buffet, and one of the highlights is the daily-changing fresh basket of homemade pastries: I was obsessed with the gluten-free banana bread.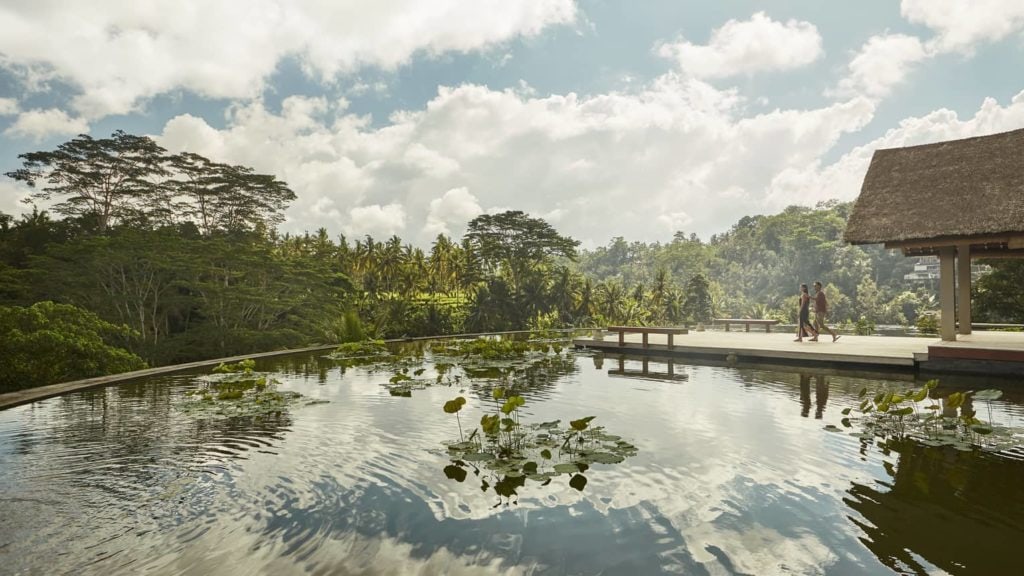 Spiritual Wellness Offerings
The "Guided by Gratitude" retreat I joined was curated by the resident Buddhist nun and scholar Heni Ferawati (Ibu Fera) exclusively for Four Seasons Sayan. Described as a programme for anyone who needs time out to restore inner peace and strength, the retreat employs a combination of meditation techniques, blessing rituals, yoga and spa treatments—music to my ears after a long month of work travel and deadlines.
The programme begins with one of Four Seasons seven chakra ceremonies called "Muladhara". Muladhara is the grounding chakra and the centre of security and foundation. Four Seasons Sayan offers ceremonies for all seven chakras which the Balinese believe enable alignment and connection with the earth and our physical and spiritual bodies. The Muladhara treatment is recommended for people who travel a lot or are going through periods of change in their lives. This 120-minute treatment included a cleansing Balinese kemenyan frankincense smoke ceremony, sound healing and a blissful full body massage, and was the perfect way to bring me inner peace and relaxation for the rest of the retreat.
07:00 Energising Hatha Yoga
08:30 Relaxing Yin Yoga
09:30 Breakfast at Ayung River Terrace
11:00: Healing Massage at Sacred Spa
12:30 Lunch at Ayung Terrace
14:00 Sacred Nap
15:30 Silent Contemplation
17:00 Walking Meditation and Water Blessing
18:30 Dinner at River Restaurant
20:00 Candlelight Mala Meditation
The day continued with Ayurvedic yoga with visiting instructor Amanda, followed by Yin yoga and the most amazing Sacred Nap session. For someone like me who finds it impossible to switch my mind off and take a quick recharging sleep during the day, this was life-transforming. Conducted by Ibu Fera in the Dharma Shanti Bale located in the middle of tranquil rice field, I was guided to a large silk hammock and essential oils and a sleep mask were placed on my eyes. Then the rest of the session I was rocked in my silk cocoon as Ibu Fera sang, chanted and told the story of Buddha. The first five minutes I was my usual restless self but after an hour I was gently awakened in disbelief that I was able to go into a deep heavenly sleep. If relaxation is what you crave then this treatment is not to be missed.
Other highlights during the programme where a guided walking meditation and water blessing, candlelight mala meditation (all the mala prayer beads are handmade by Ibu Fera) and a talk on "The Secret of Happiness". We also chanted and sang and I was really able to let go of all of my stress and worries for a bit. I left this programme feeling so connected, relaxed and rested.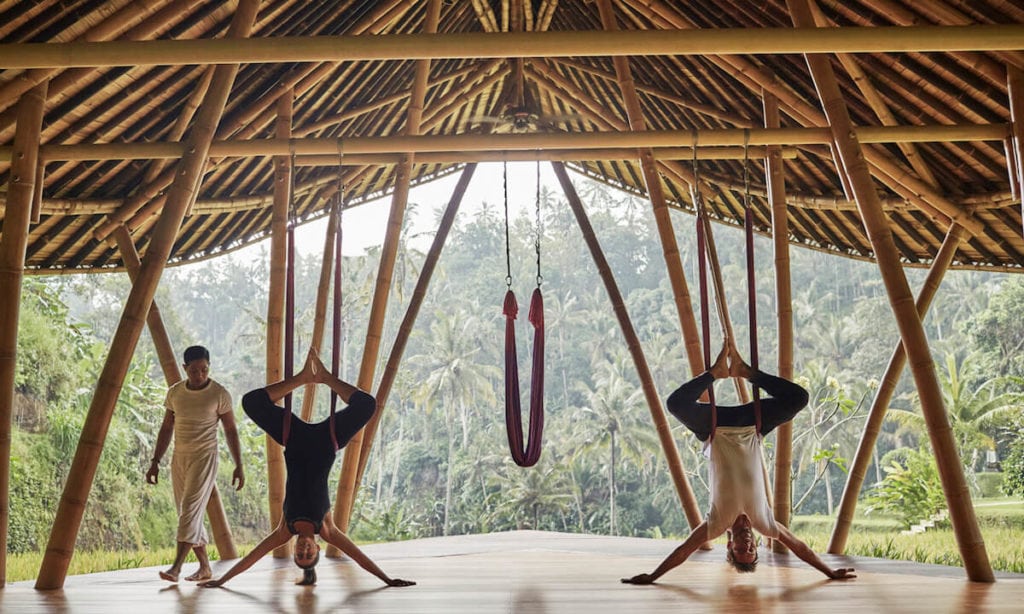 Results
Four Seasons Sayan exceeded my expectations and delivered a unique wellness experience that tapped into my spiritual side, but was also incredibly relaxing and grounding. The gorgeous resort is a destination in itself: throughout my stay, I still felt the authentic vibes of Bali and Ubud, with the constant sounds of the sacred Ayung River, the lush green rice paddies and dense jungle right there in front of me at all times.
I was really able to let go of all of my stress and worries for a bit. I left this programme feeling so connected, relaxed and rested.
The "Guided by Gratitude" programme was fresh, creative and so interesting that I looked forward to every activity on my schedule. I will definitely remember the teachings from the amazing Ibu Fera long after my stay in Bali.
What We Loved…
The best part about doing a wellness retreat at Four Seasons Sayan is the flexibility: I had the choice to immerse myself in the activities but then go grab a drink at the bar; have a delicious indulgent Indonesian dinner, or opt for a lighter dish on the health-focused menu. This flexibility makes Four Seasons Sayan perfect for not only solo travelers but also couples and families who want to have different experiences.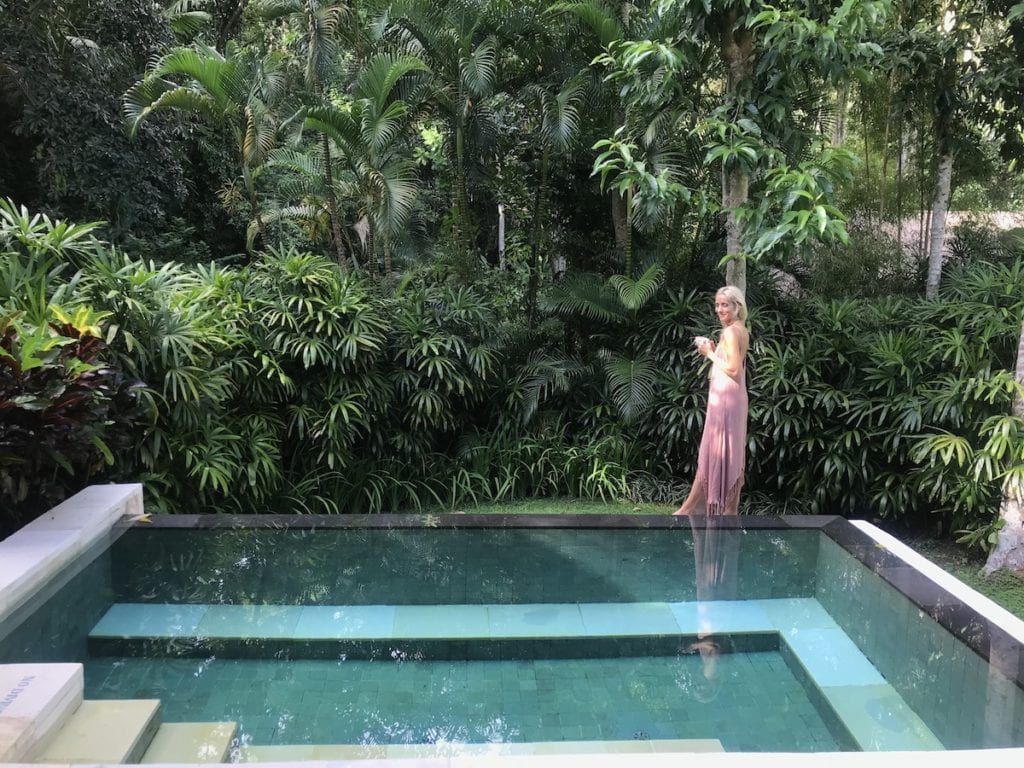 Our Insider Tip
The big tub in the ensuite was a serious perk for anyone who relaxes best with a bubble bath: on my first evening, I lit the candles and opened the sliding glass doors to take a luxurious, long soak while listening to the sounds of the jungle. The amenities are from Etro—soaps and salts all provided—which makes for a really luxuriant-feeling pamper session from the comfort of your room.