California is pretty much synonymous with healthy living, a region where wellness is celebrated in all forms, whether it's a new vegan café in Beverly Hills or a luxury indulgent retreat by the beach. Spa enthusiasts are at no shortage of options when it comes to finding a luxury escape in this state. Here are some of the most incredible spas to indulge in and pamper yourself any time of the year.
Cal-a-Vie Health Spa
Secluded away upon over 450 acres of private land in Vista, California, Cal-a-Vie Health Spa brings a refined combination of Mediterranean fare with coastal Cali. Each luxury results-driven retreat will leave you feeling rejuvenated and ready to kick start or reboot a healthy lifestyle. Whether you're craving a short but effective wellness break or a longer, immersive escape, this is the place to be.
Prices from US$4,550 for a three-night retreat | Book now on Compare Retreats
See also: Kyra Oliver On Adapted Wellness Retreats At Cal-a-Vie Health Spa
La Prairie Spa at Waldorf Astoria
World-renowned Swiss skincare label La Prairie collaborates with Waldorf Astoria in Beverly Hills to present its luxury spa offerings to its portfolio of discerning clientele. Occupying over 5,000 square feet of space, the serene spa pays tribute to its origins, serving La Prairie's most precious and opulent products in the form of massages, facials and more.
Canyon Ranch
If the outdoors and hiking are your callings, Canyon Ranch might just be the perfect place for you. The wellness retreat in Arizona began its journey around 40 years ago with a passion for providing people with the tools to live longer, younger and better lives. Its year-round plethora of activities range from indoor tennis to mountain biking on the pine-topped mountains of Tucson. Wind down after a long day out by relaxing at the holistic spa, a calm oasis for stress-free healing.
Prices from US$4,588 | Book now on Compare Retreats
See also: Canyon Ranch's Jim Eastburn On Rebooting In Nature & Transformational Wellness Experiences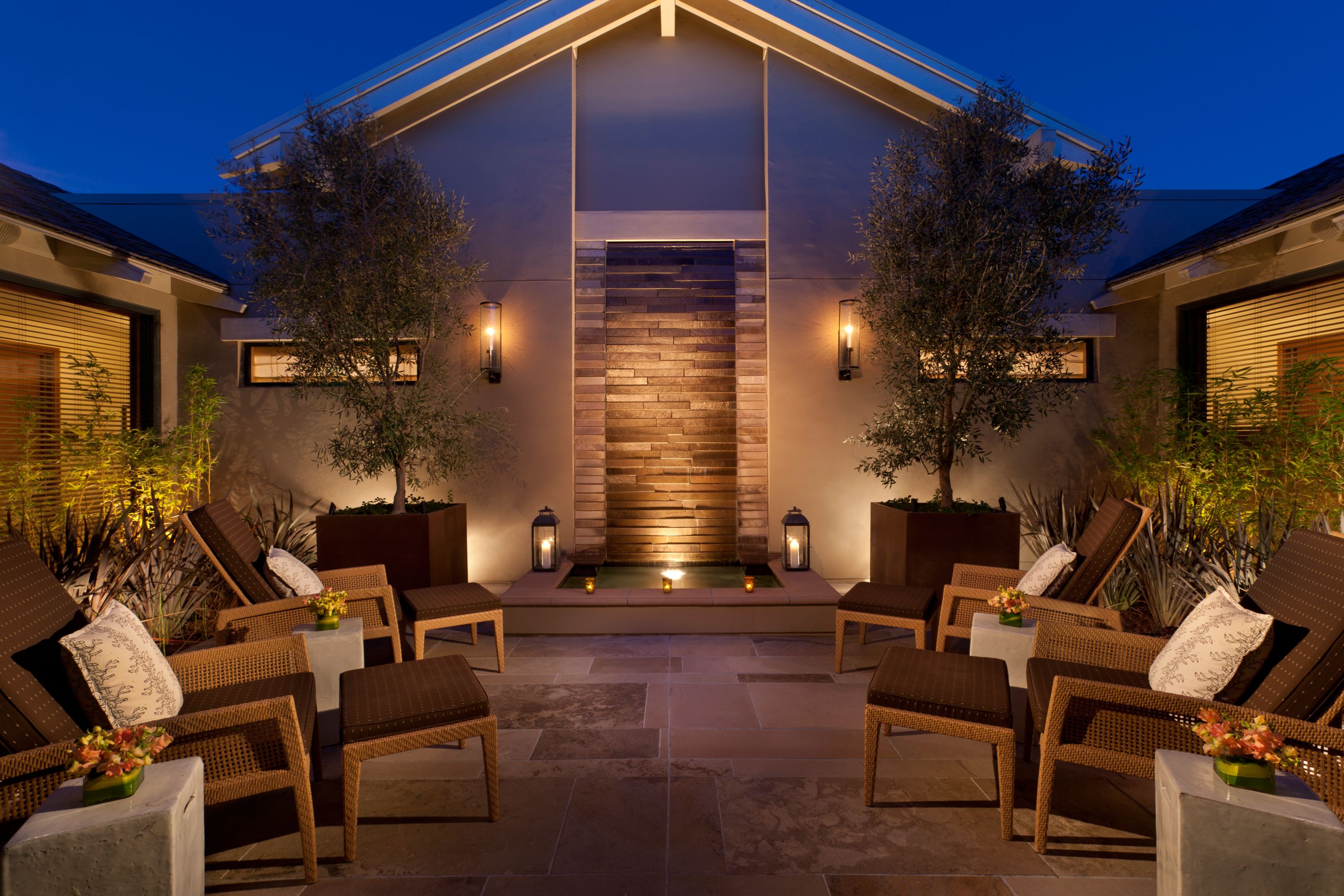 Sense® Spa at Rosewood CordeValle
Hidden among the foothills of the Santa Cruz mountains, Sense® Spa at Rosewood CordeValle curates treatments that harness its natural surroundings in its treatments. The Swedish massage is a signature option, a combination of energising stimuli to the neck and shoulder using organic oils such as ginger, lavender or neroli. There's also a beautiful hair salon and well-equipped fitness centre to further inspire your wellness experience.
Post Ranch Inn
On the cliffs of Big Sur, Post Ranch Inn sits 1,200 feet above the ocean making it the ultimate destination for a secluded escape. There's plenty to fawn over here—the impressive architecture, the dramatic beauty of the coast—but what yields returning customers is the stunning treetop accommodation making it a unique wellness abode for Cali travellers. Rejuvenate with the in-room massage, spa treatment or yoga class while looking over the lush forest views.
Rancho Valencia
Recently unveiling its new spa concept earlier this summer, Rancho Valencia continues to impress with its mix of tranquil gardens and olive groves in an enchanting location. The spa celebrates the benefits of herbs, flowers, oils and minerals, embedded in the treatment menu designed to rejuvenate the mind and body. Rated five stars by Forbes, this Southern California spa resort makes the perfect backdrop to a wellness getaway, hosted by top-notch spa and yogi professionals.
Float Luxury Spa
An intimate hideaway in Santa Monica, Float Luxury Spa takes you to a pretty private garden equipped with a pool to begin your wellness experience with a swish entrance. Choose from the serene selection of massages, facials and body treatments to alleviate sore muscles and improve overall complexion. The spa also works with nearby Kimpton Canary Hotel providing in-room treatments in the comfort of your accommodation.
See also: Renate Hermes, Wellness Director of Kagi Maldives, On The Power Of Positive Thinking
Belmond El Encanto
For a touch of Hollywood glamour, Belmond El Encanto sits high up within the Santa Barbara Hills offering stunning views of the American Riviera. Its rich history dates back to 1918 and it's been part of the region's social scene since. Experience indulgent treatments at the spa, followed by a detox juice on the terrace for a relaxing experience overlooking its untouched natural surroundings.