Located an hour away from Hong Kong by fast ferry, Macau is home to Michelin-starred cuisine, a UNESCO World Heritage site, and an abundance of wellness features. The former Portuguese colony may be known for its dazzling casino scene, but offers much more, particularly in the wellness space. There's an old-meets-new nostalgia wherever you go—plus, many heritage sites embrace its vibrant history. Wellness seekers flock from Hong Kong and overseas to soak in the fascinating culture and try the plethora of spa treatments. Here's a quick guide on some of the best wellness activities to try on a trip to Macau.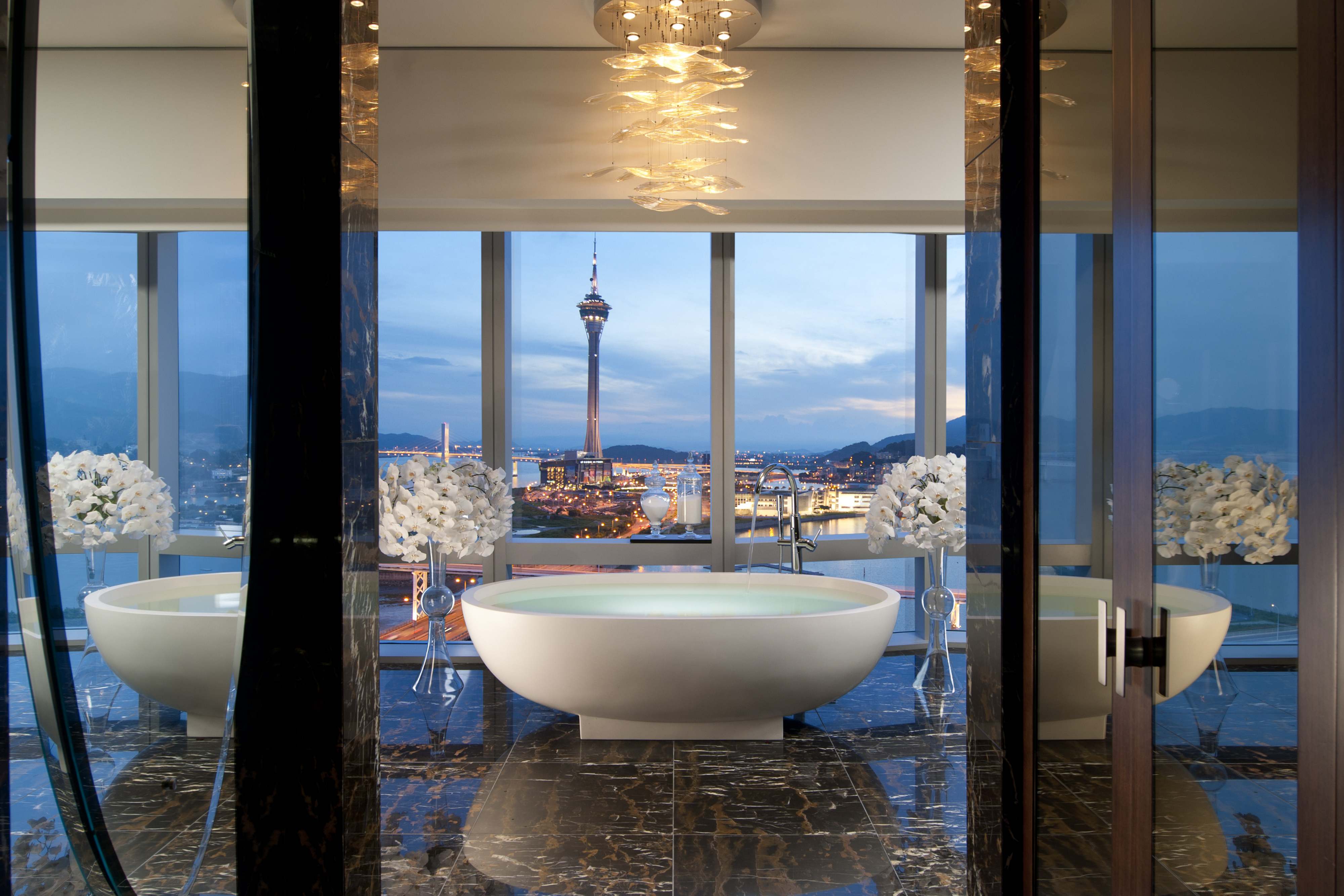 Stay
Macau is famed for its endless stream of hotels, many of which are upscale. There are two islands, Taipa and Coloane, joined by a strip of reclaimed land named Cotai. Compare Retreats loves the wellness-oriented facilities available at cult classic hotels including Mandarin Oriental Macau and The Ritz-Carlton, Macau. Surround yourself in the glamour and buzz of Cotai Strip at Four Seasons Macao Cotai Strip, where you can spend the afternoons lounging by the pool, followed by an indulgent spa treatment. 
See also: The Ultimate Wellness Guide To Hong Kong
Experience the oasis of Tria Spa at either MGM Macau property, and the Greek mythology-inspired Morpheus Hotel. Banyan Tree Macau is a popular option for those missing the Thai shores, while The St. Regis Macao features an impressive 8,430-square-feet spa to rejuvenate, with all-day butler service to cater to your every need.
Eat
With a name like Healthy Habits Superfood Cafe, you can trust that the food aims to fuel you well. Focusing on fresh, homey nutritious dining, the restaurant serves keto, paleo, and vegan dishes.
For something more upscale, Robuchon au Dôme is one of the region's top tables for contemporary French fine dining. The three-Michelin-starred venue offers seasonal tasting menus with signature dishes such as the soft-boiled egg with baby spinach puree. Founder Robuchon regularly plans special tasting menus and curates health-conscious menus.

Other options include The Blissful Carrot for vegetarian and vegan delights, or Sum Yuen Macau, nestled in the Taipa Buddhist Monastery.
See also: St Regis Macao Launches New Exquisite Aromatherapy Experience At The Iridium Spa
Drink
Going out for a drink doesn't always involve alcohol. In fact, there's now an abundance of alcohol-free alternatives (which are also low in calories). Lyre's is a great option for non-alcoholic spirits, while SipFree offers low-alcohol to no-alcohol drinks, from beer to wine. Both ship to Macau. Most bars also serve mocktails, teas, and juices.
See also: Compare Retreats Tries: Elemental Herbology At The Shine Spa Sheraton Grand Macao
Alternatively, you can skip the bar scene entirely and head to one of the delightful juice bars or teahouses for a refreshing morning or evening fix. Make your way towards Taipa Village to grab a refreshing concoction from Guava Juice or head to Cha Bei in Galaxy Macau for some satisfying kombucha.
There's also the famous Michelin-guide-recommended Long Wa Tea House which takes you back to 1960s Cantonese teahouses, serving a fine array of Chinese teas. 
Do
Most hotels in Macau have accessible gyms for guests. Ritz Carlton Macau's Wellness Health Club offers memberships where you can use the fully-equipped fitness center, outdoor pools, sauna, and steam room. Alternatively, stay at JW Marriott Hotel Macau to use their Wellness Health Club, open 24/7. Four Seasons Hotel Macao Cotai Strip has its state-of-the-art gym to keep you energised anytime of the day—you can even request certified trainers upon request.
See also: Boutique Charm Meets Luxury Service At The Hari Hong Kong
Compare Retreats recommends walking on foot to explore Senado Square, where you'll find a plethora of cultural monuments showcasing the diverse Macanese history. If you're looking for entertainment, don't forget to pay a visit to The House of Dancing Water, an incredible water world experience. Thrill seekers can test their adrenaline with AJ Hackett's Bungy Jump experience off Macau Tower. There's also a range of water sports activities, yoga classes, and personal training sessions to try across the city. Try Pilate House Macau for a challenging core workout with some of Macau's top Pilates instructors.
Relax
Spa seekers will be happy to hear that Macau houses a wide range of excellent treatments. The best ones are at five-star hotels with highlights including St. Regis Macao's Iridium Spa, Banyan Tree's spa sanctuary, Four Seasons Hotel Macao Strip's spa, and Mandarin Oriental Macau's spa.
For something outside of the spa, keep calm and meditate with Yoga Loft's meditation sessions, or try one of their other forms of relaxation classes. 
See also: 6 Upscale Healthy Restaurants To Try In Hong Kong This Year
Pamper
Stay on top of your beauty regimen by heading to a trustworthy hair salon like Elements Salon, a Kérastase Salon, for the ultimate head and scalp experience. Alternatively, get your mani-pedi experience with a hair treatment at Wynn Macau's Salon for head-to-toe pampering.
See also: The Best Photo-Worthy Yoga Spots In Hong Kong
Shop
Macau is a great shopping destination, filled with a variety of stores for every occasion. The Moss Natural Life sells organic handmade soaps, while Mai Lon Store is a zero-waste market featuring everything from eco-friendly skincare to dried foods. Head to Macau's most popular piazza at the Ruins of St. Paul's to explore its antique shops, with treasures like authentic antique porcelain, rosewood reproductions of traditional Chinese furniture, and intricate Chinese paintings.
See also: 14 New Luxury Wellness & Spa Hotel Openings In 2021
Why now?
It may seem surprising to some to hear that Macau boasts a portfolio of beautiful spas. Only a mere 40 minutes away from Hong Kong by fast ferry, the region may deem popular for its casino hype, yet offers so much in the world of wellness—particularly in recent years. Many luxury hoteliers have planted branches across the region, opening up a plethora of high-end spas for discerning wellness travellers. There are also plenty of places to hike and work up a sweat, while being in close proximity of the city centre so you never get lost.