A new study from the Global Wellness Institute has revealed that the wellness tourism market grew from $563 billion in 2015 to $639 billion in 2017. This 6.5% annual growth is more than twice as fast as tourism overall, which is currently at 3.2%.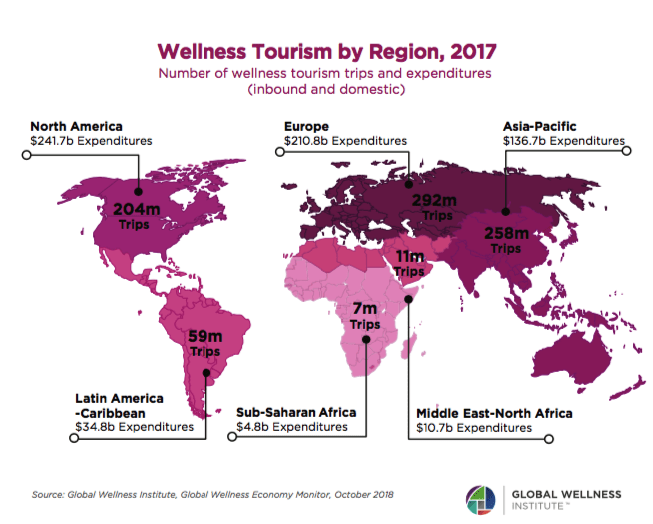 Wellness tourism, defined as, "travel associated with the pursuit of maintaining or enhancing one's personal well-being," is now growing faster than tourism itself. The 2018 Global Wellness Tourism Economy report, released this week at the World Travel Market in London, offers detailed insights into wellness tourism markets across the globe, including the top ranking wellness tourism markets: the United States ranked first, with German and China ranking second and third respectively.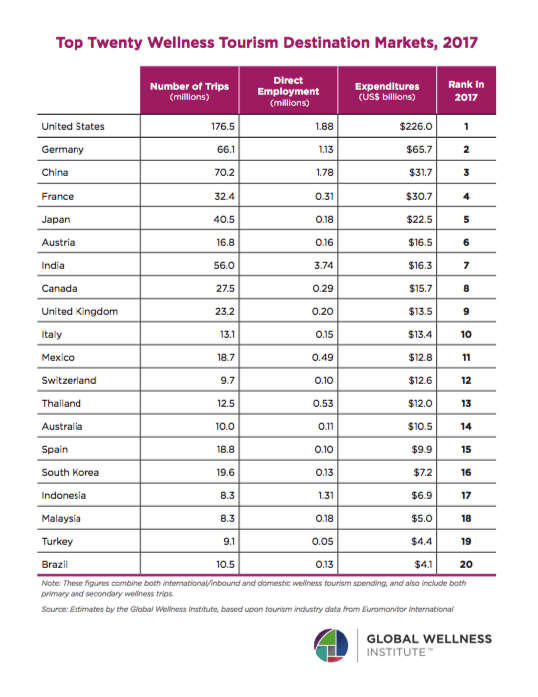 The 2018 report revealed more regional and national data and trends analysis than ever before, including the spending premiums for wellness travellers, as well as which national tourism boards worldwide are actively promoting wellness tourism.
See also: Best 15 Luxury Yoga Retreats Around The World To Improve Your Practice
The data on traveller premiums indicate that domestic wellness travellers are likely to spend 178% of the average domestic tourist, while international wellness travellers spend 53% more than the average international tourist.
Forecast to grow even faster through 2022 (7.5% yearly) to reach $919 billion, North America currently drives the most wellness tourism revenue (US$242 billion annually), while Europe has the most wellness trips (292 million). Asia-Pacific, on the other hand, is the growth leader, with wellness trips growing 33% in the last two years.
See also: The Best Luxury Wellness Retreats in Asia For A Five-Star Getaway
China and India rank first and second for growth, adding roughly 22 million and 17 million wellness trips respectively from 2015-2017. Growth is expected to exceed the average in Asia, with an estimated growth of 13.1% annually.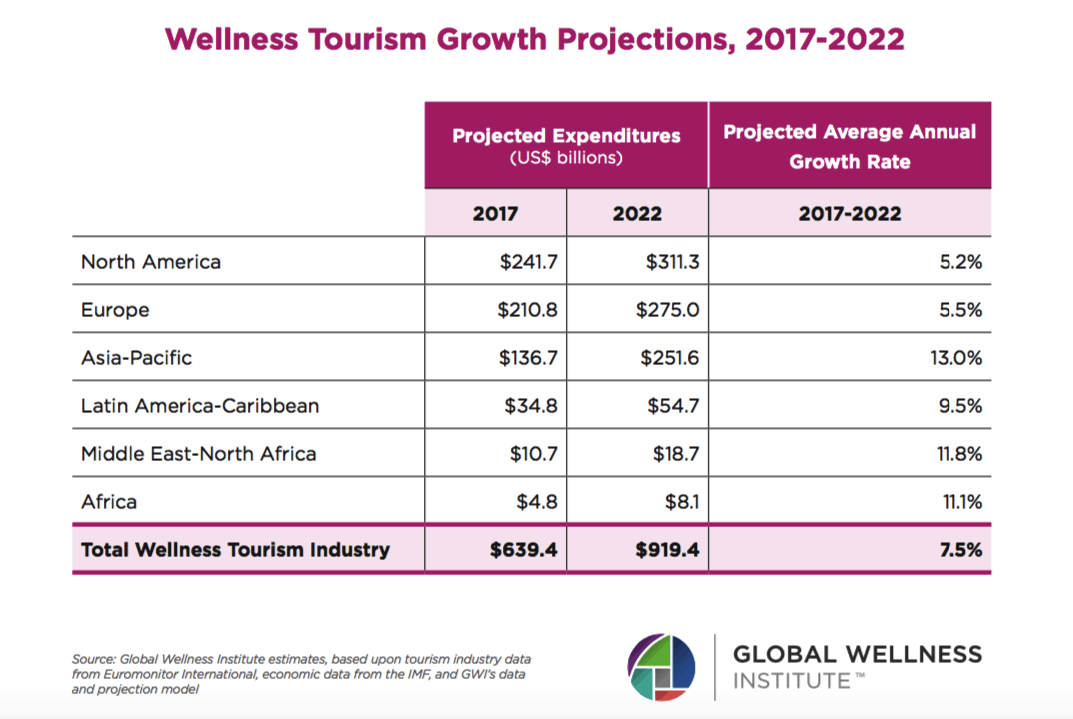 Travellers around the world made a total of 830 million wellness trips in 2017, an incredible 139 million more than in 2015. Wellness tourism now represents 17% of all tourism revenue, making it more important than ever for hotels and resorts to incorporate wellness into their operations to remain competitive.
See also: The Global Wellness Industry Is Now Worth US$4.2 trillion
"Wellness tourism burst into the consumer consciousness just a few years ago, and it's hard to grasp the speed of its growth and evolution," noted Katherine Johnston and Ophelia Yeung, GWI Senior. Researchers. "Wellness, hospitality, and travel are now converging in unprecedented ways, from the 'healthy hotel' concept going utterly mainstream to airports, airlines, and cruises injecting so much wellness programming, to the profusion of ever-more-creative wellness destinations, retreats and tours.
"The wellness concept is transforming almost every aspect of travel and wellness tourism will only grow faster in years ahead, as it lies at the powerful intersection of two massive, booming industries: the $2.6 trillion tourism industry and the $4.2 trillion wellness market."
Read the full report here.