Ayurveda is an ancient healing modality that dates back more than 5,000 years. The traditional medicine practice hails from the Indian subcontinent, but today it is widely practised around the world. It's renowned for its health benefits and ability to promote wellbeing to aid both body and mind. And so we return to where it all began. So, here are the best luxury Ayurvedic resorts and retreats in India…
This article was originally published by Amanda Sheppard on August 9, 2018, and was last updated on May 17, 2022.
Amanbagh
Hidden among tiger-inhabited wilds and misty mountains sits Amanbagh, the luxury wellness hotelier's venture into India. So, its secluded location makes it the perfect backdrop for a restorative Ayurveda retreat. In keeping with the brand's stellar reputation, guests can immerse themselves in results-driven programmes that are personally designed for each individual. Thus, it's worth making the most of its Ayurvedic physician who will prescribe an Ayurvedic diet, with herbal therapies, meditation and passive movement sessions to balance the mind and body.
Contact bookings@compareretreats.com to book your luxury wellness retreat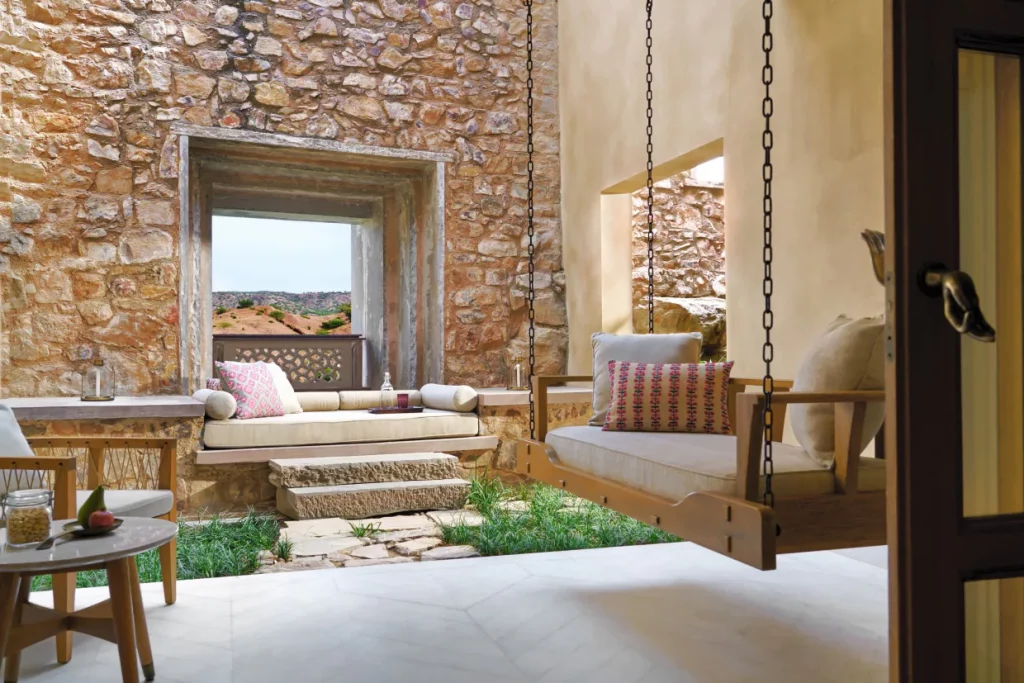 Six Senses Fort Barwara
Three hours away from Jaipur, Six Senses Fort Barwara is a wellness escape fit for a royal. That's because you're literally on the 14th century Rajasthani fort, among historic palace and temples. Besides the incredible architecture one can anticipate for, the wellness programmes take a traditional approach, with Ayurveda at its core. Thus, it's worth noting that its dedicated Ayurvedic retreat is a must for wellness enthusiasts.
Contact bookings@compareretreats.com to book your luxury wellness retreat
Ananda in the Himalayas
High in the Himalayan landscape, Ananda uses the ancient healing modality to tailor guests' wellness programmes. After wellness, fitness and Ayurveda consultations upon arrival, guests take part in scheduled daily wellness activities (including yoga, meditation and cooking classes). They also have the option to use the resort's steam room and sauna at their leisure. The price is inclusive of accommodation and nourishing spa cuisine.
Contact bookings@compareretreats.com to book your luxury wellness retreat
Vana
Situated in Uttarkhand in the Himalayan foothills, the Vana wellness retreat is just an hour's drive from the airport in Dehradun, though you'll feel a million miles away in this tranquil setting. Vana translates to 'forest' – and when you've seen the resort's surroundings, you'll see why the name is so fitting. For a minimum of seven nights, retreats here are inclusive of Ayurveda treatments and one-to-one consultations daily, nutritional meals, and a plethora of retreat activities, including wellness, food and cultural based excursions.
Prices start from $437 per night, vana.co.in
SOUKYA Holistic Health Centre
Just 21-kilometres from the bustling tech hub of Bangalore in India lies Soukya. It's an idyllic wellness sanctuary that offers its guests treatments based on healing ancient philosophies. Days begin with watching the sunrise, and listening to chirping birds on the horizon. Meanwhile, an on-site Ayurvedic garden makes for the perfect place to while away an afternoon.
Contact bookings@compareretreats.com to book your luxury wellness retreat
Shreyas Retreat
Shreyas Retreat is a boutique retreat that sits on the outskirts of Bangalore, India. Retreats are inclusive of a welcome consultation, which helps establish the personalised Ayurveda programme to follow. Prescribed treatments include massages, yoga, meditation, cooking classes and more, as well as learning how to integrate yoga into daily life. So if that's what the doctor ordered, far be it from us to argue!
Carnoustie Ayurveda & Wellness Resort
This Ayurveda and Wellness resort is situated in Ayurveda heartland—Kerala, in southern India. So, Carnoustie offers guests luxury accommodation, a range of therapies, body wraps and prescribed Ayurveda medicine throughout their stay. With daily yoga and meditation sessions, you'd be hard-pressed to leave feeling anything but refreshed and rejuvenated, ready to face the year ahead.
Contact bookings@compareretreats.com to book your luxury wellness retreat
Kairali Ayurvedic Centre
The saying 'it takes a village' takes on a whole new meaning here; Kairali Ayurvedic Healing Village serves as a base for those looking to benefit from the healing properties of this ancient modality. Stays here are inclusive of accommodation, vegetarian cuisine, Ayurveda therapies, yoga, cooking classes, and nature walks. Formally founded in 1989, it's one of the original pioneers among today's Ayurveda retreats.
SwaSwara, CGH Earth
SwaSwara occupies a spacious plot of land near Om Beach in Karnataka, India. Retreats include daily consultations with an Ayurvedic doctor, yoga and guided meditation sessions, so you can truly kick back and enjoy. During leisure time, you can join group art and pottery classes, temple excursions and a boat cruise tour. Meanwhile, guests can enjoy healthy cuisine with a prescriptive vegetarian menu according to their Dosha.